Benjamin's Boxing Showdown
Congrats to Leo and Labi, who both competed at the Benjamin's Boxing Showdown on 7/23. Both put forth a good effort and lost close decisions.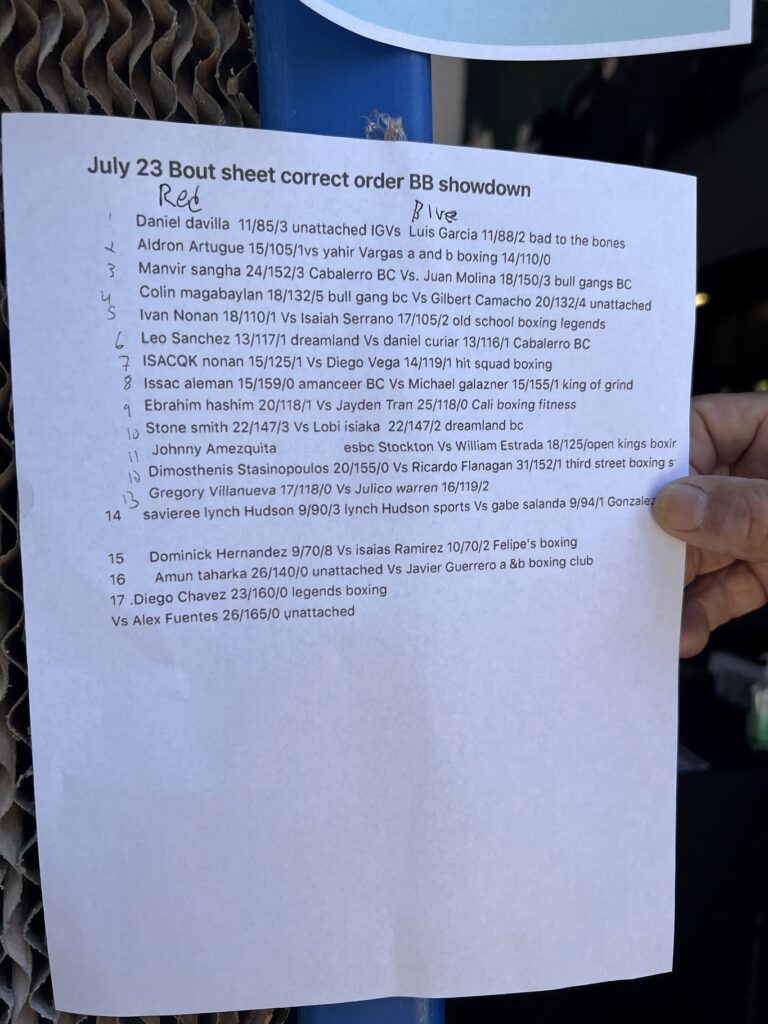 Recapping the event:
When I was fighting, I was told never to put up any clips of my fights on social media. I was told that people will find your footage and study your tape.
It's true – being on the other side, we often see footage of other fighters before we fight them. But truth is, it doesn't really matter.
Fighters improve very quickly and should be able to adopt different tools into their arsenal. We expect our fighters to evolve from fight to fight, getting better with each bout.
Everybody has a camera these days anyways. Even if it's not the fighter posting their stuff, someone else will post it anyways. This is all part of the game, and fighters should be able to win despite their opponents knowing how they fight.
Leo Sanchez vs Daniel Curiar:
Leo Sanchez had his second amateur fight against Daniel Curiar of Caballero boxing. It was an evenly contested bout. Both fighters have similar styles, boxing on the outside, but being able to put pressure and combinations together when they have the opportunity.
Unlike Labi's fight – which pitted a brawler vs a boxer. These two were trying to execute the same game plan. They traded jabs often. Occasionally, Leo would put the pressure on his opponent, but his opponent would flurry to even out that exchange. They would get in clinches and fight for positioning to be able to land the first punch out. The ref never had to break out of any clinches, the fighters made sure to punch their way out. Both fighters were in great condition to throw at a high workrate all three rounds.
Ultimately, the decision went the other way. There are a few things we've worked on internally since that fight. Immediately after the fight, we had to talk to Leo about the learning curve of boxing and what we would need to work on.
Labi Isiaka vs Stone Smith:
This was a fun one to corner, because we had a strategy and were able to implement it. It was one of those fights where fighter and coach were entirely in sync. I could shout commands from the corner, and Labi would execute them perfectly. If I saw something, he'd make his adjustments on the fly.
Labi fought Stone Smith at the Benjamin's Boxing Showdown. I watched a few quick highlights of his footage prior to the bout and noticed that he's a big puncher with power in both hands. He throws overhand rights, which later set up his left hooks – both to the body and head.
I told Labi to move to his right, and away from his opponent's over hand right, the entire fight. Big punchers can get caught up in looking for one big shot, so I told him he would need to stay busy in order to win. I also told him to keep off the ropes and look to catch and counter Stone's left hook to the body with right uppercuts.
ROUND 1:
Labi opened the fight with a high workrate – just as we asked. He controlled the first half of the round just by keeping his opponent on the outside and throwing combinations. And just like we asked, he was moving right the entire round.
In the middle of the first round, his opponent started landing some hard shots. This is where you see what a fighter is made of – if they can stay in the moment and continue to focus on their gameplan, or if they start to unravel and abandon what their plan. By the way, abandoning a gameplan doesn't necessarily mean running away, it could also be done in the often glorified way of trading punches and getting dragged into a war.
Labi threw less for the rest of the round as he tried to gather himself. After the fight, he did tell me that he lost confidence for a brief moment as his opponent threw damaging blows.
ROUND 2:
The in-between cornerwork was the most telling part of the fight. Right as Labi sat down, I observed him closely to see if his feet wobbled. I watched his eyes to see if he was hurt. Then I asked him how he felt. In the most confident manner, he said he was ready for the next round. Judging by his tone and facial expression, I could already tell he was locked into the next round – which was all I needed to see and hear. This is where the fun began.
Despite being in there against a dangerous puncher, we knew what Labi does well – box. He needed to get back to boxing, controlling the ring, and winning with volume. This was a fight where the corner and fighter were completely in sync – with us giving instructions and him trying his best to implement our commands. In general, Labi used to have a bad habit of circling too wide to get out of trouble – and I gave him a few commands to on his positioning. Sometimes I would even point to where I needed him to be, and I'd see him try to make that adjustment on the fly.
At the end of the round, his opponent pulled another trick out of his bag. He used a Canelo-like feint to fake the right hand and throw a left hook to the body. We were looking for the right hand, and also looking for that left hook to the body, but that feint took a little time for Labi to adjust to. It was a strong round overall, but his opponent really pushed strong to finish that round.
ROUND 3:
"Watch that Canelo feint!" I told him between rounds. We felt like this fight was up for grabs. We reminded him of what works – moving but also finding openings after the end of exchanges after getting an angle (as opposed to circling way out of range and resetting). Any hesitation from that 1st round outburst was out the window for Labi he was ready to go.
The third round was the same story, Labi's volume and movement vs his opponents less frequent power punches. With about 20 seconds left, Labi's opponents mouthpiece fell out – buying him some additional time. Labi's opponent appeared the more tired of the two. But, just like the last two rounds, after getting a breather to get his mouthpiece back in, he finished the round very strong throwing hard hooks. These flurries can swing rounds.
RESULT:
The decision went the other way. After the fight, someone came up to us and tipped us to check the scorecards, because he or she believed 2 judges gave the fight to our fighter with scorecards of 30-27.
After the intermission, we went to the lead official, Celeste, and requested the scorecards. Note that this is typically a difficult exercise – as officials are juggling so many different things. When you have the time to catch them during intermission, they rightfully say no as that's the only time they have to eat and take a quick break. So we tried to squeeze our request in between the intermission and the introduction of the next fight – but things were hectic as usual. Don't expect an official to give you a lot of their time as they're very busy during this time.
The scorecards read 27-30, 30-27, and 27-30. But here's the thing – we are not allowed to see the actual scorecard and it's copied over onto a piece of paper. So I don't know which fighter was which – so the assertion certainly might have been correct that our fighter won.
I never get too caught up in decisions for novice fighters for non-tournament bouts. Labi was able to put his skills on display and learned from the experience. No matter the outcome, we can still pinpoint the things he did well and the things he needs to learn from.
If you enjoyed this article, please sign up for my newsletter below:
About the Author:
Coach Ian is an ultra-marathon runner and a volunteer coach at the non-profit boxing organization, Dreamland Boxing, in San Jose, CA. He competed in boxing for both Dreamland and collegiately at UCLA. His goal is to empower all to be the best that they can be, in boxing and in life. You can find Coach Ian on Instagram, Facebook, and YouTube.