Coach Ian – Week in Review 02/28/2021:
What I'm Listening To:
Peter Attia MD – The Drive
Guest: Hussein Yassine, M.D.: Deep dive into the "Alzheimer's gene" (APOE), brain health, and omega-3s
I've written about being an APOE4 carrier in the past, so listening to talks about APOE4 naturally piques my interest. APOE4 is the gene that is commonly associated with being linked to Alzheimer's – and a previous book where I read all about it was in the book Genius Foods by Max Lugavere. It was a read that made me alter my diet and lifestyle to put myself in the best position to avoid Alzheimer's down the road. Of key importance to me are fatty fish and avoiding processed foods and refined carbohydrates.
Some key takeaways from the podcast were:
Unlike what was mentioned in the book Genius Foods, Hussein Yassine, M.D. did note that the brain prefers glucose over ketones (Max Lugavere said that the body prefers glucose, but the brain utilizes ketones first)
Essentially fatty acids are important for APOE4 carriers in their earlier years to prevent Alzheimer's, but may not be help the elderly when Alzheimer's is forming. It's preventative, not restorative
APOE4 was the default gene before mutating into APOE3, then APOE2 and APOE1. APOE4 was favorable in unsanitary conditions prior to our lifespan being as long as it currently is. Now, the increased risk of Alzheimer's is also a result of an increased average lifespan as many weren't living past 60 even 100 years ago. An APOE4 carrier typically is symptom free for most of his or her life until at least the age of 60.
APOE4 aggregates and favors a strong inflammatory response. A long time ago, childbirth was difficult in unsanitary conditions. APOE4 women had a better chance of surviving childbirth and protection from sepsis. APOE4 carriers also had a better chance of surviving parasitic infections.
GLUT1 vs GLUT4 receptors and GLUT1's role in regulating blood glucose for the brain, and APOE4's impact on GLUT1
Article of the Week:
Conditioning for Boxing: I wrote about getting in shape for your first boxing match. Outside of your boxing training and sparring, how to structure your roadwork, incorporating tabata's, half-mile sprints, Yasso 800's, Heart Rate Zone training, hill repeats, distance running, and the Maffetone Method (for recovery) into your training.
Run Streak and Running Goals:
Since the start of the year, I've started off a Run Streak. I've run 5K/day every day, except for Saturday's which are for my long distance runs.
Progress: As of 2/28/21, I've now run 239 miles for the year, while maintaining my 59-day run streak.
Boxing Matches This Week:
Canelo Alvarez vs. Avni Yildirim
There's not too much to say about this one, Yildirim felt Canelo's power and seemed too scared to engage with Canelo. Canelo did all of the things that makes Canelo great – his feints to set up his uppercuts, his right uppercut-left hook to the body combination, his head movement and defense, and his powerful jab and cross combination that sent Yildirim down to the canvas in the third round. It was Canelo doing what he does against limited opposition.
HIGHLIGHTS | Canelo Alvarez vs. Avni Yildirim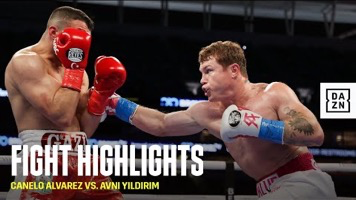 Marc Castro vs. Raul Corona
Marc Castro looked extremely impressive in his win over Raul Corona, an MMA fighter who had never been stopped and gone the distance with amateur standout Duke Ragan. Most impressive to me was the way he changed levels and placed some beautiful body hooks. He also transitioned from orthodox to southpaw seamlessly, and from counter-punching while moving backwards to coming forward with hard body shots several times throughout the fight. (Example at 1:12 or 04:58)
It's also a really good sign when you can knock your opponent down with a jab (0:26). Look out for this fighter!
HIGHLIGHTS | Marc Castro vs. John Moraga
Keyshawn Davis vs. Lester Brown
Keyshawn Davis was a very decorated amateur and was expected to be competing in the 2021 Olympics. I'm not sure exactly what happened, but he ultimately didn't end up competing in Tokyo and made his professional debut last night. He lived up to the hype, like Marc Castro above, he looked seasoned and had terrific shot placement throughout the night, mixing in body shots and well timed uppercuts. He used his lead left hand to blind his opponents and displace his guard, while setting up his right hook around the guard, which he ultimately knocked down and then stopped his opponent out with. He's extremely accurate with his punches, fights with a high ring IQ, and will be exciting to follow in the years to come.
HIGHLIGHTS | Keyshawn Davis vs. Lester Brown
This Week at Dreamland Boxing:
Dreamland Boxing has re-opened for outdoor classes. Classes will be capped and there will be no waitlist for classes. Come join me on Fridays at 4:30PM for a workout!
Dreamland has also increased its outdoor capacity to 12 students per class, and lifted limits on how many classes you can sign up for in a week. Join me for a class on Fridays at 4:30PM!
Also, I have continued to host our virtual boxing sessions. Thank you to our members for keeping your memberships active and continuing to support our gym during this time. And I'm personally glad to have been able to aid in your boxing development all year!
Our practices this week featured the following:
Breaking down the Oscar Valdez – Miguel Berchelt fight
Walking your opponent into punches
Using the V Step
Left hook placement: Golovkins on the temple vs the chin
Defense Drills
Combinations starting with the left hook
Body weight circuits
Kettlebell Single-Arm Swings and Turkish Get-Ups
And more!
You can find a full list of drills if you are a current Dreamland Boxing member in the Premium Drills section of my website.
Subscribe to my newsletter!