Coach Ian – Week in Review 03/14/2021:
What I'm Listening To:
Phil Maffetone is a health practictioner, known for his Maffetone method of training for distance. I noted that I implemented his methods heavily into my training for the Ventura Marathon, and in general like to train a majority of my distance at a heart rate below 150, or 180-my age.
In this podcast, Phil Maffetone talks about his journey from helping athletes with their injuries, and his discovery that, surprisingly, training slower can help you race faster, while also preventing injuries and allowing you to train smarter.
RIP Marvelous Marvin Hagler
Marvelous Marvin Hagler was one of my favorite fighters growing up – being of one the "Fabolous four" middleweights along with Sugar Ray Leonard, Tommy Hearns, and Roberto Duran. It's a sad day for boxing. Here are a few highlights to remember Marvin Hagler:
Fab 4 Rivalries – Duran, Leonard, Hearns, Hagler (Boxing Documentary)
Marvin Hagler VS Thomas Hearns in 1080p
Levels Health (CGM):
I wrote about 4 different startups making CGMs (continuous glucose monitors) more widely available to athletes and non-diabetic patients, as a way to track blood glucose for overall health. This week, I received my early-access to the Levels Health app and have been playing around with their app.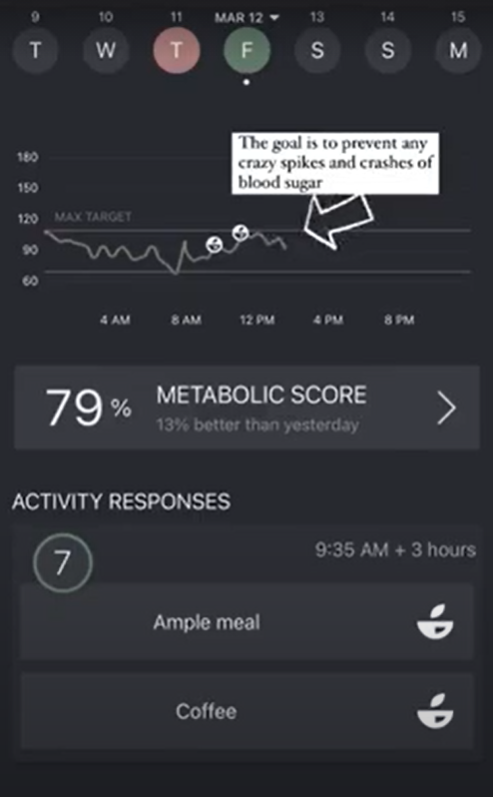 I'll do a more detailed review in the future, but so far I'm liking the interface of the app and the "metabolic score" you receive based on how often you can keep your glucose within a stable range. In addition, there are challenges, which are really like experiments that you can do to see how your blood glucose is impacted by different variables. For example, there's a "carb-first" vs "carb-last" challenge – for most people, eating carbs prior to your meal (think that bread you get as an appetizer) spikes blood sugar far greater than after having eating fat or protein first. It will be interesting to try to tackle all of the challenges they have listed and see how they impact me individually.
Article of the Week:
Conditioning for Boxing: I wrote about getting in shape for your first boxing match. Outside of your boxing training and sparring, how to structure your roadwork, incorporating tabata's, half-mile sprints, Yasso 800's, Heart Rate Zone training, hill repeats, distance running, and the Maffetone Method (for recovery) into your training.
Run Streak and Running Goals:
Since the start of the year, I've started off a Run Streak. I've run 5K/day every day, except for Saturday's which are for my long distance runs.
Progress: As of 3/14/21, I've now run 296 miles for the year, while maintaining my 73-day run streak.
Boxing Matches This Week:
Brandun Lee vs Samuel Teah
What a knockout. Brandun Lee is one of the most exciting young prospects at 140lbs. On Wednesday, he scored a knock-out of the year candidate over the durable Samuel Teah, who had never been stopped before. It was impressive in a step-up fight against someone who had been in there with Montana Love and a number of other prospects. Samuel had fast hands and was able to land a few good shots on Brandun Lee. He was trying to counter Brandun's left jab to the body with a cross over the top, which he landed early. Brandun figured that out and would counter Teah's cross with a left hook of his own.
In the third round, Brandun caught Samuel Teah with an onslaught of punches, throwing his jab and cross while pivoting around to his right. While Teah was dipping low to try to avoid his punches, Brandun caught him on the temple, knocking Teah down. On shaky legs, Brandun was able to show off his power with a highlight reel knockout.
Brandun Lee is certainly a prospect that to keep an eye out for. He's young, only 21, so no need to rush him against the top guys like Josh Taylor, Jose Ramirez, or Regis Prograis yet, but should be developed with any of the top contenders a tier below those three.
Roman "Chocolatito" Gonzalez vs Juan Francisco "El Gallo" Estrada
FOTY.
Jessica McCaskill vs Cecilia Braekhus II
Jessica McCaskill set the tone early and landed a number of overhand rights on Cecilia Braekhus in the first two rounds. Her trainer, Rick Ramos, stressed changing levels and attacking the head and body, which McCaskill did well. She controlled the first five rounds of the fight, until Cecilia started to come on strong late. Jessica McCaskill will be a handful for anyone given her relentless pressure, but in the later rounds she got a little sloppier. She's a little too in love with her overhand and sometimes drops that right hand by her hip before throwing it. She also dips too low with her head down, or turns away from punches. I'm guessing Cecilia Braekhus saw this when reviewing the footage of their first fight – which is why she was so confident headed into the rematch. But it's harder to put into practice, with Jessica's physical strength and pressure. I still favor Katie Taylor in a rematch against Jessica McCaskill, but would love to see the fight happen.
This Week at Dreamland Boxing:
Justin Cardona (4-0) @justincardona_, Eros Correa (10-0) @eroscorrea, former world champion Oscar Escandon (26-5), @8limbsports, @_rare_impact, and top-ranked amateur Dominic Reed (@teamdomination415) got some rounds at Dreamland. See the full updates here.
Dreamland Boxing has re-opened for outdoor classes. Classes will be capped and there will be no waitlist for classes. Come join me on Fridays at 4:30PM for a workout!
Dreamland has also increased its outdoor capacity to 12 students per class, and lifted limits on how many classes you can sign up for in a week. Join me for a class on Fridays at 4:30PM!
Also, I have continued to host our virtual boxing sessions. Thank you to our members for keeping your memberships active and continuing to support our gym during this time. And I'm personally glad to have been able to aid in your boxing development all year!
Our practices this week featured the following:
Breaking down the Claressa Shields win over Marie Eve Dicaire
Focusing on technique and keeping your elbows and chin tucked in
Drills with a tennis ball
Staying on the outside
Body weight circuits
Kettlebell Single-Arm Swings and Turkish Get-Ups
And more!
You can find a full list of drills if you are a current Dreamland Boxing member in the Premium Drills section of my website.
Subscribe to my newsletter!