Coach Ian – Week in Review 04/11/2021:
Book I'm Reading
The Perfect Mile: Three Athletes, One Goal, and Less than 4 Minutes to Achieve It – Neal Bascomb
Post of the Week:
A PR for my Turkish Get-Up – being able to lift my girlfriend! Still have a little work to do with the finish, but I'll get there.
Proud to have hit a 100 day running streak, but nowhere near done yet!
Run Streak and Running Goals:
Progress: As of 4/11/21, I've now run 421 miles for the year, while maintaining my 101-day run streak.
Boxing Highlights:
Shannon Courtenay vs Ebanie Bridges: Highlighting more women's boxing this week, since I'm sure the other bouts will get significant coverage elsewhere. The Shannon Courtenay vs Ebanie Bridges bout was a non-stop action war, with Bridges' eye completes swollen shut by the end of the fight. Bridges appeared to be the physically stronger fighter and Courtenay appeared to be the better boxer.
In the early rounds, I would've put my money on Courtenay fading down the stretch, not Bridges. And that's not a knock on Courtenay's conditioning – Bridges seemed to be walking Courtenay down and seemed to be breathing less heavily in the corner. But in the end, Bridges left eye was swollen completely shut, and Courtenay was able to pick her shots against her.
Courtenay boxed on the outside and used her jab, catching Bridges with a number of shots when she was working her way in. Courtenay sometimes bow and arrows her right hand, which gives way for Bridges left hook – a punch she said would be open for her all night prior to the fight. Courtenay's last fight ended in a knockout when she did straighten up that right hand, but she spends a lot of time trying to loop it around the guard. The punch Courtenay landed in the fifth round was also a very short right hand that Bridges walked right into. It's a reminder that the hardest shots are the ones you don't see coming.
HIGHLIGHTS | Shannon Courtenay vs. Ebonie Bridges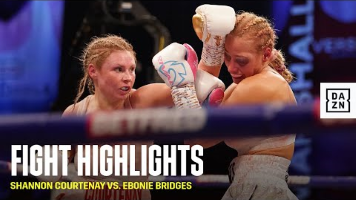 Savannah Marshall vs Maria Lindberg: Savannah made the difficult look easy. Although taking the bout on short notice, Maria Lindberg had never been stopped and had been in there with Ema Kozin, Marie Eve Dicaire, and Christina Hammer. Savannah made easy work of her, dropping her in the second and third rounds and scoring the 3rd round stoppage. She's got a real fluid style, uses a lot of head movement and disguises the speed of her punches before turning into shots that you don't see coming. There's a reason she has 8KO's in 10 fights.
If Claressa isn't next, I'd like to see her fight Christina Hammer or Hanna Gabriels or take another step up in competition.
HIGHLIGHTS | Savannah Marshall vs. Maria Lindberg
This Week at Dreamland Boxing:
Mark Salgado got some rounds in with undefeated pro Jerry Perez (13-0). Our classes have been increased to 15 people per class. See the full updates here.
Dreamland Boxing has re-opened for outdoor classes. Classes will be capped and there will be no waitlist for classes. Come join me on Fridays at 4:30PM for a workout!
Also, I have continued to host our virtual boxing sessions. Thank you to our members for keeping your memberships active and continuing to support our gym during this time. And I'm personally glad to have been able to aid in your boxing development all year!
Our virtual practices this week featured the following:
Defense
Changing levels
Controlling Range
Putting together combinations
Virtual mittwork
Body weight circuits
Kettlebell Single-Arm Swings and Turkish Get-Ups
And more!
You can find a full list of drills if you are a current Dreamland Boxing member in the Premium Drills section of my website.
Subscribe to my newsletter!