Coach Ian – Week in Review 05/29/2022
I don't have to do this. I get to do this.
It was 95 degrees on Tuesday – the day I take our amateur team to go run. We were scheduled for sprints and I knew it would be hot. I text our group early to stay hydrated the entire day and bring lots of water to the track.
I played around with how I would modify the workout. The hardest part of the workout was going to be 5x800m's with a 400m recovery lap in between each 800m repeat. As a coach, it can get tricky deciding where to draw the line. Your number one priority is keeping everyone safe. But you're also there to work. If you're making the workout too easy, you might as well reschedule – and rescheduling may be the best option in many cases.
I had the team slow their pace down 10% from their normal targets. And instead of the recovery jogging lap, they had the same amount of time to get full rest, and drink up. But I kept them at 800m's to keep the core part of the workout in tact.
People may think that I'm hard. But I actually feel like I'm being nice. Allowing you the opportunity to work. With a group of competitive athletes, it's harder to slow down than it is to put in work. Rather than viewing it as making my team run, I feel like cutting their run too significantly would rob them of the sense of achievement that they would feel when they're done.
They were all proud of their 800's after they were done. The workout was difficult, but still reasonable given the circumstances. We're only in May, so I'm sure we'll have some more hot days to train in. And now my fighters know how to prepare and how their body reacts to the heat.
Currently Watching:
An Epic Tour of Biohacker Luke Storey's Home with Ben Greenfield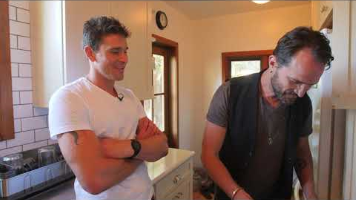 My fiance and I recently bought a new home. As we're remodeling, we're thinking about how to make our home as healthy as possible. We're looking at things like:
I'm also watching the tour of Luke Storey's home with Ben Greenfield for some ideas. Warning: I'm sure most of these upgrades are going to be expensive. But Luke and Ben are two people that would go all out on their setups and should have some good ideas.
Gervonta Davis vs Rolando Romero:
Gervonta did it again. I learned early in my boxing career that you can't throw the same combination twice in a row, as a smart fighter will make adjustments.
Malik Scott put out a great breakdown of how Gervonta adjusts – he times his opponent when he knows what's coming. I made the same observation during the Leo Santa Cruz fight.
Gervonta lured Romero to get comfortable, and when he made a mistake – bam. Fight over.
Rolando Romero did well for the 6 rounds it lasted and it was a close fight. Some people had Rolly ahead. I wonder how Tank will do when he steps up in competition, if he isn't able to score a knockout. I could see him letting a fight slip and him losing a close decision against Teofimo Lopez or Devin Haney.
This Week at Dreamland Boxing
This Week at Dreamland Boxing – 05/29/22
Coach Ian's Classes:
As you may know, I am currently donating my time to host virtual online boxing classes for the members of our 501c(3) non-profit boxing gym, Dreamland Boxing. As an active member of Dreamland, you will receive the materials and video recaps of each lesson through my website under the "Premium Drills" section.
Dreamland has also increased its outdoor capacity to 16 students per class, and lifted limits on how many classes you can sign up for in a week. Join me for a class on Fridays at 4:30PM!
Our practices this week featured the following:
– Countering vs timing
– Moving away from the cross
– Defense
– Bodyweight circuits
And more!
You can view our full practices here.
Reminder:
You must be a registered member to sign up for a class, you cannot just drop-in! If you are a current member, you will receive a sign-up link to reserve your time slot every Saturday. Reserve right away because slots fill up quick (by Monday)!!
If no slots are available, sign up for the waitlist and you will be notified if any slots open up.
Visit http://www.dreamlandboxing.org or email dreamlandboxing7@gmail.com for more information on how to sign up today!
Subscribe to my newsletter!