Coach Ian – Week in Review 06/05/2022
What I'm Trying: Monthly Habit Tracker
I used a monthly habit tracker last month, to keep my accountable with my goals.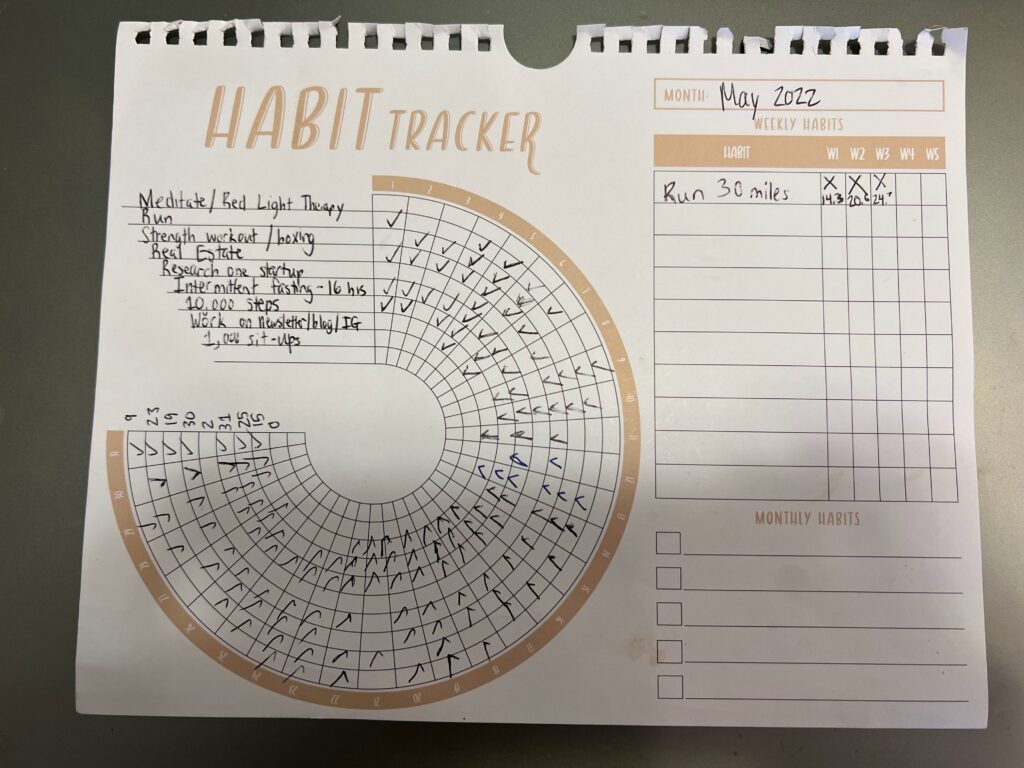 I tend to be very perfectionistic, so it's easy to think about what I'm not doing, rather than what I am doing. After running every day last year, there's still a mental battle with me not hitting the same mileage as I did last year.
This exercise tells me more about my mentality, than it does about my ability to achieve goals. My results are a mixed bag. Is my glass half-full or half-empty? Can I put my results in context?
I tend to get upset about what I'm not doing, than proud of what I am doing. But when you look at the overall list of goals, there are some that you outperform and others that you underperform – that just reflects where your priorities lay at that particular point in time.
June should present a different list of priorities. In particular, I have a 50K ultramarathon on 7/17/22 that I am entirely unprepared for. So my weekly goal of hitting 30 miles per week should be hit every week, even if that's at the expense of sacrificing less checkmarks in other buckets. But now I have other projects pulling me away from my fitness goals.
Devin Haney vs George Kambosos Jr
Devin Haney dominated this fight with his jab. His jab set up his offense, but also completely neutralized George Kambosos' attack. If Kambosos ever did get close, Devin Haney clinched, pivoted out, and reset back out of range. It was a masterful performance by Devin Haney.
Some people think that Devin Haney is going to box like this every fight. But we've been in Devin Haney's camp, and he's more than just a slick outside fighter. He's a monster in sparring, and I can't wait for him to have an opponent that will test him so he can unleash that side of him.
One of our fighters sparred at his gym. Him and his camp are respectful before and after sparring, but when you're in the ring they're trying to knock you out. We saw a glimpse of what it looked like when Showtime covered his sparring session with Willie Shaw on Day In Camp: Devin Haney (time: 8:20).
This Week at Dreamland Boxing: Dreamland Boxing Expansion!
Coach Ian's Classes:
As you may know, I am currently donating my time to host virtual online boxing classes for the members of our 501c(3) non-profit boxing gym, Dreamland Boxing. As an active member of Dreamland, you will receive the materials and video recaps of each lesson through my website under the "Premium Drills" section.
Dreamland has also increased its outdoor capacity to 16 students per class, and lifted limits on how many classes you can sign up for in a week. Join me for a class on Fridays at 4:30PM!
Our practices this week featured the following:
Follow the leader – different combinations
Moving away from the cross
Bodyweight circuits
And more!
You can view our full practices here.
Reminder:
You must be a registered member to sign up for a class, you cannot just drop-in! If you are a current member, you will receive a sign-up link to reserve your time slot every Saturday. Reserve right away because slots fill up quick (by Monday)!!
If no slots are available, sign up for the waitlist and you will be notified if any slots open up.
Visit http://www.dreamlandboxing.org or email dreamlandboxing7@gmail.com for more information on how to sign up today!
Subscribe to my newsletter!