Coach Ian – Week In Review: 06/06/2021
Run Streak and Running Goals:
Progress: As of 6/6/21, I've now run 670 miles for the year, while maintaining my 157-day run streak.
Happy Global Running Day! (June 2nd)
Share of the Week:
Nature's cold therapy: The Tamolitch blue pool stays at 37 degrees year-round. After a long day of hiking, it was nice to recharge here.
Cold exposure benefits:
• Vasoconstriction and vasodilation allows oxygen rich blood to reach areas that may not have as much blood supply in stable temperatures.
• Cold exposure allows white fat to convert to thermogenic brown adipose tissue, which produces heat. Brown fat also slows the aging process and reduces the risk for degenerative diseases.
• Improved memory: Cold exposure can increase levels of norepinephrine, which plays an important role in cognition
• Resilience to stress: This one's very noticeable, as you're immediately subjected to stress the moment you hop in an ice bath. If I tense up or try to "fight" the cold, it only gets worse. I breathe my way through until I no longer feel cold.
The cold activates the vagus nerve, which connects to many of the body's organs via the parasympathetic nervous system. We live in a world which chronically elevates the sympathetic ("fight or flight") nervous system, leading to a compromised immune system, poor mental health, and chronic conditions. Activating the parasympathetic ("rest and digest") system helps improve the bodies resilience to stress, depression, and anxiety.
Boxing Highlights:
I didn't have the chance to catch the weekend's fights as I was out (getting engaged!), so I won't have a write up for Devin Haney or Nonito Donaire's fights.
But congrats to Vlad Panin, who trains with my former coach Ramon Espada and was a former UCLA Boxer, on his stoppage victory this past weekend.
Vlad Panin improves to 10-1 (5KO).
Nonito Donaire vs Nordine Oubaali:
Nonito Donaire KOs Nordine Oubaali In Round 4 | SHOWTIME CHAMPIONSHIP BOXING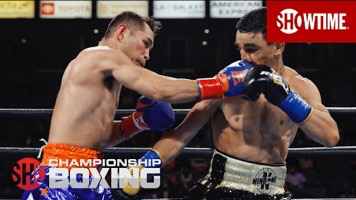 Even at 38, Nonito's left hook is one of the most devastating punches in boxing.
Floyd Mayweather's last fight:
This Week at Dreamland Boxing:
Our classes have been increased to 16 people per class. Also, open gym hours have been extended from 9:30AM to 12:30PM and a Beginner's Boxing Class on Saturdays at noon with Coach Eric. See the full updates here.
Dreamland Boxing has re-opened for outdoor classes. Classes will be capped and there will be no waitlist for classes. Come join me on Fridays at 4:30PM for a workout!
Also, I have continued to host our virtual boxing sessions. Thank you to our members for keeping your memberships active and continuing to support our gym during this time. And I'm personally glad to have been able to aid in your boxing development all year!
Our virtual practices this week featured the following:
Jabbing out, angles, feinting
Flowing punches together
The importance of staying loose
Body weight circuits
Kettlebell Single-Arm Swings and Turkish Get-Ups
And more!
You can find a full list of drills if you are a current Dreamland Boxing member in the Premium Drills section of my website.
Subscribe to my newsletter!