Coach Ian – Week In Review: 06/13/2021
Book I'm Reading
The Perfect Mile: Three Athletes, One Goal, and Less than 4 Minutes to Achieve It – Neal Bascomb
This book follows three athletes, Roger Bannister (UK), John Landy (Australia), and Wes Santee (US) all trying to be the first runner to break the 4 minute mile. Great read!
Run Streak and Running Goals:
Progress: As of 6/13/21, I've now run 702 miles for the year, while maintaining my 164-day run streak.
This week I ran the Virtual Cure Coats' 5K to help spread awareness about Coats disease – a rare disease that affects children and can cause blindness.
Sparring with a CGM:
Last week, I received a message from a boxer in Germany asking if I had any experience wearing CGM's during boxing sparring. As you can imagine, it's quite difficult to put a CGM on your body or arms and then have someone try to throw punches at you.
Nonetheless, I tried it out for a lighter sparring session at Dreamland this Friday. I had the CGM on my oblique, but low enough to be covered by my waist protector. Truth is, people miss punches all the time and your waist protector moves around a bit so I was lucky that my CGM stayed on. I wouldn't recommend this for any fighter during training camp, but as I was just experimenting, I wanted to see my data.
I saw a big spike of blood sugar to the 170 range while I was sparring. Even with no carbs, my body is pulling glucose from my liver for strenuous exercise. Note that this only happens during anaerobic workouts, but not for my slower-paced long distance runs.
Running with a CGM:
The following day, I ran 13.5 miles of hills while wearing my CGM. I made a conscious effort to keep my heart rate low (average 129bpm), and my blood sugar stayed flat in the 90's the entire run. Shows that you don't need to be fueling with Gu every two miles!
Share of the Week: Prioritize your Sleep!
Deep sleep is the stage where the glymphatic system is most active, acting as a dishwasher for your brain and flushing out toxins. This is particularly important for boxers, who have a higher risk for neurodegenerative disease.
I try to target 1.5 hours of deep sleep minimum per night!
Share of the Week #2:
This past week James "Iron Cowboy" Lawrence completed his 100th Ironman triathlon in 100 days. In 2015, he did 50 Ironman triathlons in 50 days across the 50 states. Incredible!
James Lawrence's post-race check in on day 101.
Boxing Highlights:
Prospect Watch: Ramla Ali
FULL FIGHT | Ramla Ali vs. Mikayla Nebel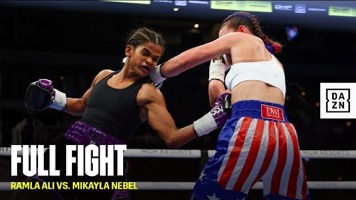 This Week at Dreamland Boxing:
Our classes have been increased to 16 people per class. Also, open gym hours have been extended from 9:30AM to 12:30PM and a Beginner's Boxing Class on Saturdays at noon with Coach Eric. See the full updates here.
Dreamland Boxing has re-opened for outdoor classes. Classes will be capped and there will be no waitlist for classes. Come join me on Fridays at 4:30PM for a workout!
Also, I have continued to host our virtual boxing sessions. Thank you to our members for keeping your memberships active and continuing to support our gym during this time. And I'm personally glad to have been able to aid in your boxing development all year!
Our virtual practices this week featured the following:
Pivoting, footwork, and angles
Flowing punches together
Body weight circuits
Kettlebell Single-Arm Swings and Turkish Get-Ups
Finisher workouts with a ladder
And more!
You can find a full list of drills if you are a current Dreamland Boxing member in the Premium Drills section of my website.
Subscribe to my newsletter!