Coach Ian – Week In Review: 08/08/2021
Book I'm Reading
North: Finding My Way While Running the Appalachian Trail
By Scott Jurek and Jenny Jurek
Run Streak and Running Goals:
Progress: As of 8/8/21, I've now run 953 miles for the year, while maintaining my 220-day run streak.
Mark Salgado scores a 4th round Knockout!
Congrats to Mark Salgado, who scored a 4th round knockout this Saturday over 1-0 hometown favorite C'maje Ramseur. Mark had a very successful training camp, which had him sparring some of the best and in great condition for his fight. He came in at 133lbs and looked strong the entire night. More highlights to come this week.
Mark Salgado Podcast Interview | Turns Pro In Sacramento On August 6th Against Cmaje Ramseur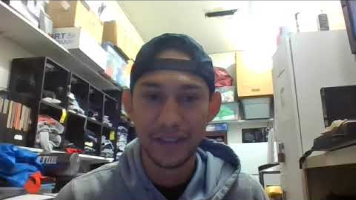 Mark Salgado discusses his training for his pro debut with Luke Ketelle of Inside the Ropes
Olympic Boxing:
So much has happened since last week. I've primarily caught up with the US Olympic Boxing team and the Philippine Boxing team. Congrats to Philippine silver medalists Carlo Paalam and Nesthy Petecio, bronze medalist Eumir Marcial and American silver medalists Duke Ragan, Richard Torrez Jr., and Keyshawn Davis.
Some of the highlights for Olympic Boxing were:
Carlo Paalam taking down the number 1 seed Shakhobidin Zoirov. While it was unfortunate that the bout stopped due to a cut. Paalam won the first clearly and was winning the first minute of the second before it was stopped.
Nesthy Petecio's highlight of the tournament was beating Italy's Irma Testa coming from behind with a heavy body attack over her taller opponent.
Eumir Marcial getting two stoppages to start the tournament, including an impressive 1st round stoppage over Arman Darchinyan. Marcial lost a close 3-2 decision in the semi-final to heavy tournament favorite Oleksandr Khyzhniak. Oleksandr Khyzhniak later looked to be on his way to a Gold medal victory, winning 20-18 on all 5 scorecards before getting knocked out to Herbert Sousa.
Eumir Marcial has the power and style to be a successful pro, but his defense and head movement can be improved. He has really nice power behind his lead hook, but relies on it a bit too much and he got tired in the final round of his semi-final bout against Khyzhniak. We'll see how his conditioning holds up as he moves up past 6 rounders as well.
Duke Ragan was impressive in his 4 bouts entering the final. He ran into Albert Batyrgaziev, who appeared too physically strong for Ragan. Although Ragan boxed beautifully, he didn't sit on his lead hook and couldn't keep Albert Batyrgaziev off of him. Often, Ragan would counter well but then get backed up and caught on the way out. The judges favored Albert Batyrgaziev's pressure.
Richard Torrez Jr. also had an impressive run in his 3 fights leading up to the final, a rematch against Bakhodir Jalolov. In 2019, Jalolov brutally knocked out Richard Torrez Jr., sending him to get carted off on a stretcher. This time around, Torrez Jr. lasted the rounds and pushed the action the entire time. I imagined it would be a mental hurdle, and I wanted to see if there was any hesitancy on Torrez's part. It was really impressive to see him put that aside and do everything in his power to win the fight.
Ultimately, Jalolov was too big, too long, and too strong for Richard Torrez and he won decisively. Torrez won the first round on 3 of the 5 scorecards, likely because of a clean overhand that he landed, but I had the first round for Jalolov. Jalolov then gave Torrez an 8-count in the second round and dominated from that point on. When Torrez gets hurt, he actually gets a little more reckless with his pressure which was a bit scary to watch. But I'm still very impressed with Torrez' heart and effort against the much bigger Jalolov.
Keyshawn Davis' highlight was stopping Sofiane Oumiha of France with an overhand right in the second round. He cruised to the final, where he faced Andy Cruz once again. Despite Davis' great performances, he still entered as a 3:1 Underdog. Andy Cruz looked unstoppable in his fights leading to the final.
The final was a chess match, with Cruz winning the first round and Davis winning the second. Andy Cruz started the third round stronger, while Keyshawn finished strong. Neither landed heavy blows on the other, and often they would raise their hands to signal to the ref anytime they scored. These were close rounds where a single clean punch could edge out the round. In the end, the judges gave the last round to Andy Cruz and he walked away with a split decision victory.
I would recommend reading Lucas Ketelle's write-ups for all things Olympic Boxing here.
Article of the Week: Race Report: The Big Chief 50K
I had some time to digest my last ultramarathon, the Big Chief 50K and wrote about all of the things I learned, including:
Why athletes like Eliud Kipchoge are using glucose monitors to prepare for races
The best time to fuel during your race. It's not pre-race as that and the onset of exercise causes a blood sugar crash immediately
How my glucose monitor impacted my fueling and race strategy
Two startups (Levels Health and Supersapiens) and their differing philosophies for maintaining healthy blood sugar levels
Why I stay away from most gels and how the steady glucose impact of UCAN gels helped my performance
How the elevation impacted me and how I used my (surprising) heart-rate data to determine my pacing
Why I started my ultra with an empty hydration pack, and
My overall experience from the Big Chief 50k!
This Week at Dreamland Boxing:
Our classes have been increased to 16 people per class. Also, open gym hours have been extended from 9:30AM to 12:30PM and a Beginner's Boxing Class on Saturdays at noon with Coach Eric. See the full updates here.
Dreamland Boxing has re-opened for outdoor classes. Classes will be capped and there will be no waitlist for classes. Come join me on Fridays at 4:30PM for a workout!
Also, I have continued to host our virtual boxing sessions. Thank you to our members for keeping your memberships active and continuing to support our gym during this time. And I'm personally glad to have been able to aid in your boxing development all year!
Our virtual practices this week featured the following:
Range drills
Working the body
Slipping and rolling
Body weight circuits
Kettlebell Single-Arm Swings and Turkish Get-Ups
And more!
You can find a full list of drills if you are a current Dreamland Boxing member in the Premium Drills section of my website.
Subscribe to my newsletter!