Coach Ian – Week in Review:
What I'm Reading:
Consilience – The Unity of Knowledge – Edward O. Wilson – Interesting read, but it was all over the place so I switched back to another read during our road trip, which was . . .
Own the Day, Own Your Life – Aubrey Marcus – These books all start to blend together over time, with many of the same wellness hacks (high-fat breakfast, importance of saturated fat, maximizing your commute time, mindfulness, cold-immersion therapy, breathwork, meditation, impact of plants on wellness (coffee, matcha tea, etc.) you'd read from Ben Greenfield or Dave Asprey. Still a fun read – and it's well self narrated by Aubrey Marcus, which makes a difference to me when choosing an audiobook.
Reminder: Vote!
You can request a ballot-by-mail here. It is recommended to mail your ballot in at least 10 days prior to the election. If voting by person, you can find your nearest polling place here.
Fitness and Traveling:
I recently went on a SoCal road trip. It was a fun little get away to explore the trails of Joshua Tree. For a road trip, I love bringing a kettlebell with me as a versatile tool for a full body workout! During COVID times, it may be all you need if you don't feel comfortable going to a gym.
For our runs, we played a game of pass the baton (using a selfie-stick!): We made our run in 100 degrees a little more fun by passing the baton to each other at different time intervals and paces. That "baton" was actually a camera so we got a bunch of cool footage as well.
Boxing Drill of the Week:
Boxing is Like a Game of Chess:
Like a game of chess, a boxing match has an infinite number of combinations and different ways a fight can play out.
In the beginning of your development, I find it much more important to understand themes (changing levels/speed, countering and feinting, fighting on the inside vs the outside, etc) than to just memorize combinations. Just like in chess you learn basic strategies and tactics (center control, when to castle, forks, pins, discovered openings, etc) before memorizing openings.
Yes, at a certain level it becomes necessary to memorize combinations (or chess openings). But that's all for naught if you don't understand the underlying reasons WHY that set of punches (or moves) works. Without that understanding, you could literally use a random number generator and you'd have your endless supply of combos to throw.
So I don't post any videos like "100 combinations to try at home!" Instead, I have a library of boxing drills segmented by theme here. I hope to teach young fighters to have the situational awareness to know what combinations will be effective in which scenario. In the beginning, a fighter may have less combinations to work through (for example, a go to strategy against a smaller fighter, a different one against a taller fighter, and another one for a southpaw). Over time, that arsenal will get deeper and deeper, with the fighter knowing how to pick his or her spots throughout the fight to set something up in the later rounds. But that's developed over time – and once the fighter commits to understanding the "sweet science" of the sport.
Vasiliy Lomachenko vs Teofimo Lopez:
What a great fight! I initially scored the fight a draw, but noting that rounds 2 and 7 were rounds that could have gone to Teofimo Lopez. So anywhere between 114-114 and 116-112 for Teofimo seemed reasonable to me.
I actually found the fight relatively easy to score. Loma's inactivity in the early rounds made it hard to score rounds 1-6 for him, with the only possibility of a clean cross in round 2 stealing round 2 for him. Rounds 8-11 were clearly Loma as he was starting to land 19-29 punches at a high accuracy, seeming to buzz Teofimo a few times. This is in constrast to him throwing 13 punches or less his first 6 rounds, with only 4 punches thrown in the first round.
I'll have some breakdown's of the fight later in the week!
Boxing and Safety:
COVID Gym Adaptations: While we're all adapting to "a new normal", we've had to modify our workouts to comply with county regulations and ensure our members' safety. Rather than stopping what we do, I've tried to make small adaptations without compromising the effectiveness of our workouts.
At Dreamland Boxing, we use the outdoor areas in the front and back and my classes stagger the use of the heavy bags, with them being cleaned regularly. Our drills are also modified – I can do relay races instead of having rest periods and our rest periods can be adjusted by setting the team size. Or I can give everyone a single hexagon rather than a ladder and do the same footwork drills.
It's also important to have an open line of communication with students to make sure they feel comfortable voicing any concerns. (i.e. not wanting to be indoors, having a partner pulling down their mask, etc.) If you attend one of my classes, I encourage everyone to give feedback!
What are you all doing to adapt your classes, and what else would you like to see be done?
This Week at Dreamland Boxing:
Happy birthday to Coach Vincent!
See a highlight of a prior class I hosted here:
Due to my road trip, I was out for this week's class. I'll be back in next week!
Visit http://www.dreamlandboxing.org or email dreamlandboxing7@gmail.com for more information on how to sign up today!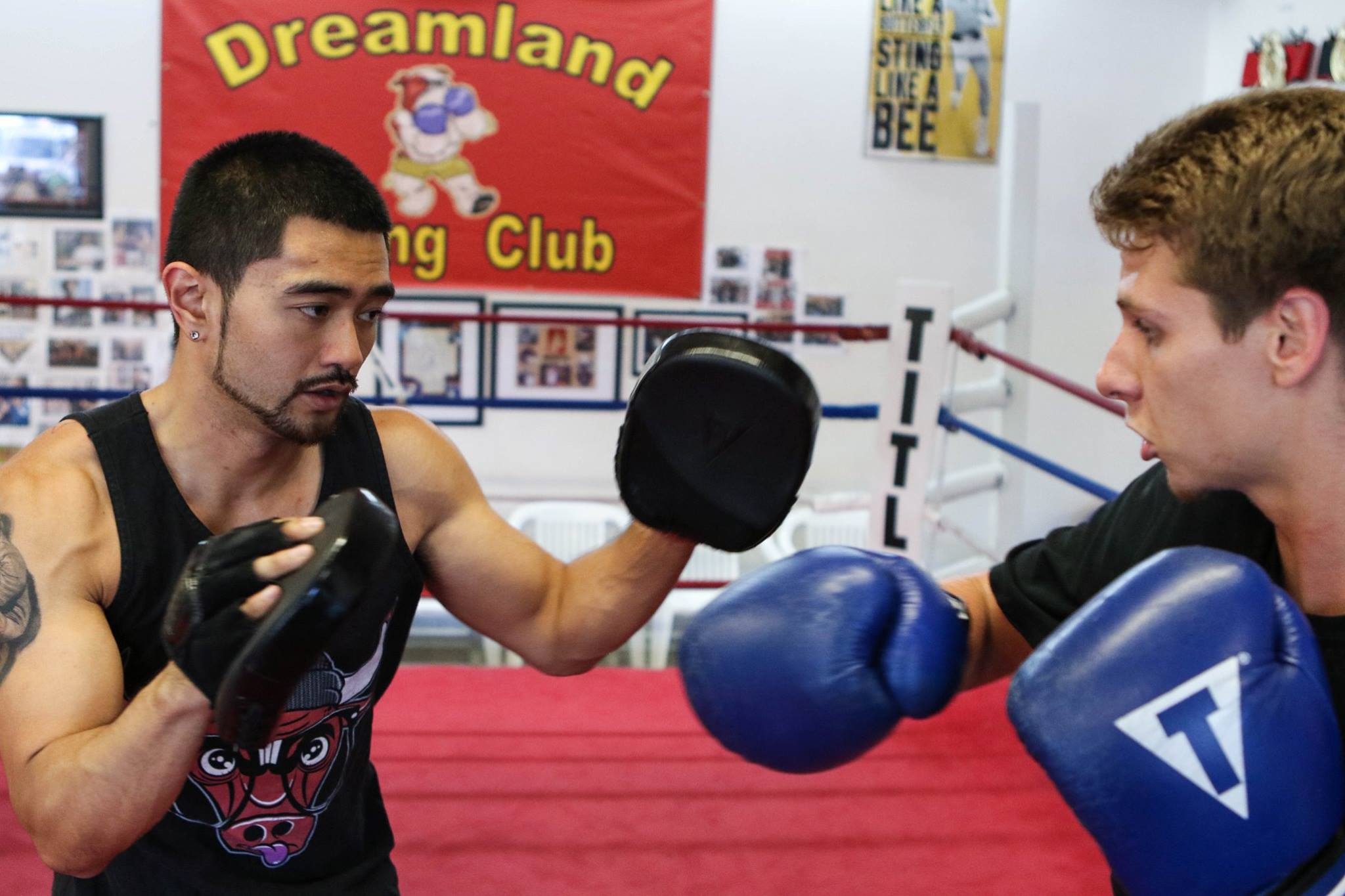 Visit http://www.dreamlandboxing.org or email dreamlandboxing7@gmail.com for more information on how to sign up today!