Coach Ian – Week in Review 10/23/2022
Boxing Recaps:
Savannah Marshall vs Claressa Shields
Claressa Shields is the GWOAT.
She just needed the opponent that allowed her to shine. Christina Hammer was supposed to be that challenge, but that fight ended up being a lopsided Shields decision.
Savannah Marshall pushed the pace in the Shields fight. She had to eat some huge punches and kept pressing forward, pinning Claressa against the ropes multiple times.
My biggest gripe with Claressa Shields was that she too often looked for one big punch. She has all the physical ability, great timing and reflexes – but often settled for using her natural ability to carry her to wins. She would look for one big punch, and ultimately not end up stopping anyone.
Savannah Marshall, on the other hand, puts her combinations together beautifully. She had a higher knockout ratio prior to this fight, scoring some stoppages over common opponents that Claressa failed to stop. Savannah Marshall lures you in – pitty patts some shots before digging in really tough hard punches that you don't see coming. She also has height and reach advantages over Claressa, which I thought would pose some problems.
They did, but as Claressa said, she had to "bite down" to win the fight. Shields threw hellacious combinations that would have dropped a lesser opponent.
Big win for Claressa Shields. And a bigger win for women's boxing.
Alycia Baumgardner vs Mikaela Mayer:
Alycia Baumgardner eeked out a close victory over Mikaela Mayer. She rode a strong start and finish of the fight to win a close SD.
Alycia is very fluid fighter, with great speed. Mikaela Mayer is technically sound and the taller and longer fighter. It was interesting to watch Mayer's reach advantage go up against Alycia's speed advantage. Sometimes Mayer was able to keep Alycia at bay. Other times, Alycia was moving in and out too quick. And Alycia has such great timing with her counter right that she was able to take away Mayer's jab to the body.
Mayer started to find her timing in the middle rounds, but Baumgardner pulled through in the final rounds to win the fight.
Alycia Baumgardner insists that she will not give Mikaela Mayer. I think when the dust settles, she'll realize that a Mayer rematch is her best option. By far. Nobody will care to see her fight Hyun Mi Choi. Baumgardner-Mayer has the makings of an epic trilogy that they both will be remembered for. Hopefully they both realize that.
Deontay Wilder vs Robert Helenius:
Brutal knockout in Deontay Wilder's return bout against his former sparring partner, Robert Helenius. I really believe that Wilder and Fury are in a class of their own and will dominate anyone else in the division, including Anthony Joshua, Oleksandr Usyk, and Andy Ruiz.
After the fight, you got to see a more human side of Deontay Wilder, showing love to Robert Helenius and sharing how tough it is to be a fighter. This is the same guy who bragged that the ring is a place where you can "legally kill someone". Boxers turn on a different switch when they fight, but for the most part it's all respect afterwards.
The most memorable part of the post-fight interaction between Deontay Wilder and Robert Helenius is a quote from Helenius' trainer where he says, "You cannot go to war because you hate what is in front of you. You go to war because you love what you have behind you."
It's true. Perhaps some fights happen with a true hatred for the other person standing in the ring. But 99% of the time, it's two people stepping into that squared circle trying to provide for their families and perform for the people standing behind them.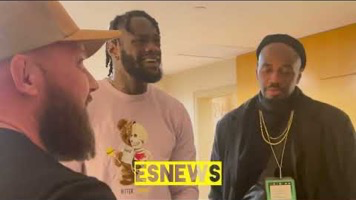 Caleb Plant vs Anthony Dirrell:
Another knockout of the year candidate!
What I'm Reading:
Inside the Ropes of Boxing: A Boxer's Guide to Boxing, by Lucas Ketelle
Boxing is a sport in which it is so hard, so personal, it requires a lot of moral fiber to survive. Boxing is a truth chamber, and your greatness and weakness will be on full display. Consider the image of a fishbowl. You are the fish inside the bowl and everyone can watch everything you are doing. If you have traits that are not desired by others, it will be hard to hide those traits in the boxing ring. In this way, we can say that boxing has the potential to reveal who you are.
Lucas Ketelle, "Inside the Ropes of Boxing: A Boxer's Guide to Boxing"
Congratulations to Bay Area boxing reporter Lucas Ketelle (Inside the Ropes) on the release of his latest book, a guide to help our future amateur athletes get into the sport of boxing!
What I'm Training for:
The New York Marathon (11/6), followed by the Monterey Bay Half Marathon (11/13)
Use the code "IAN22" for $10 off!
Shoes I'm Training In:
I'm alternating between three pairs of shoes, all with a different mm heel drop. I believe it's good to switch up your shoes to build stability in different muscles. In training, I will be alternating between the following shoes:
Zero-drop: Altra Rivera 2 (0 mm drop)
Mid-drop: Karhu Fusion (6 mm drop)
High-drop: New Balance (8mm drop)
Note: I will be receiving the Karhu Fusion through the Big Sur Marathon Foundation and have yet to try them!
Here is a good summary about how different heel to toe drop measurements impact running.
One of the benefits of wearing lower heel drop shoes, is the potential to improve cadence and improve running form, preventing overstriding, which can cause some knee issues.
I haven't worn Altra's in years, so it may take some adjusting to the 0mm drop. For example, I'm definitely getting more sore in my calves now than I have in the past. But I'm really liking training/walking in my Altras, so I think I'm going to end up logging the most mileage in these shoes before race day.
My tentative plan is to swap out my shoes as follows:
Altra: 50% of miles
Karhu: 25%
New Balance: 25% + race day
That's very general, of course. I've never logged my shoes in my Strava app – I'm thinking of starting!
Food I'm Trying:
I'm a big fan of simple, clean ingredients and this one looked great! It's not something I'll have every day, but something I can treat myself to.
Health Share of the Week: $50 Off the Oura Ring!
Use my link above to get $50 Off the Oura ring and 6-months FREE Oura membership!
Coach Ian's Classes:
As you may know, I am currently donating my time to host virtual online boxing classes for the members of our 501c(3) non-profit boxing gym, Dreamland Boxing. As an active member of Dreamland, you will receive the materials and video recaps of each lesson through my website under the "Premium Drills" section.
Join me for a class on Fridays at 4:30PM!
Our practices this week featured the following:
Generating power from the hip
Sitting on punches
Moving forwards and backwards
Being able to punch moving backwards
Maintaining distance
You can view our full practices here.
Subscribe to my newsletter!