Coach Ian – Week in Review 12/05/2021
Book I'm Reading
Thirty Dollars and a Cut Eye by J Russell Peltz
The Camraderie of Running:
Whenever I travel, I make a point to visit the local running and boxing scene. Last week, we ran with the St Petersburg Running Club, and, yesterday, it was the Roebling Runners group in Cincinnati/Kentucky!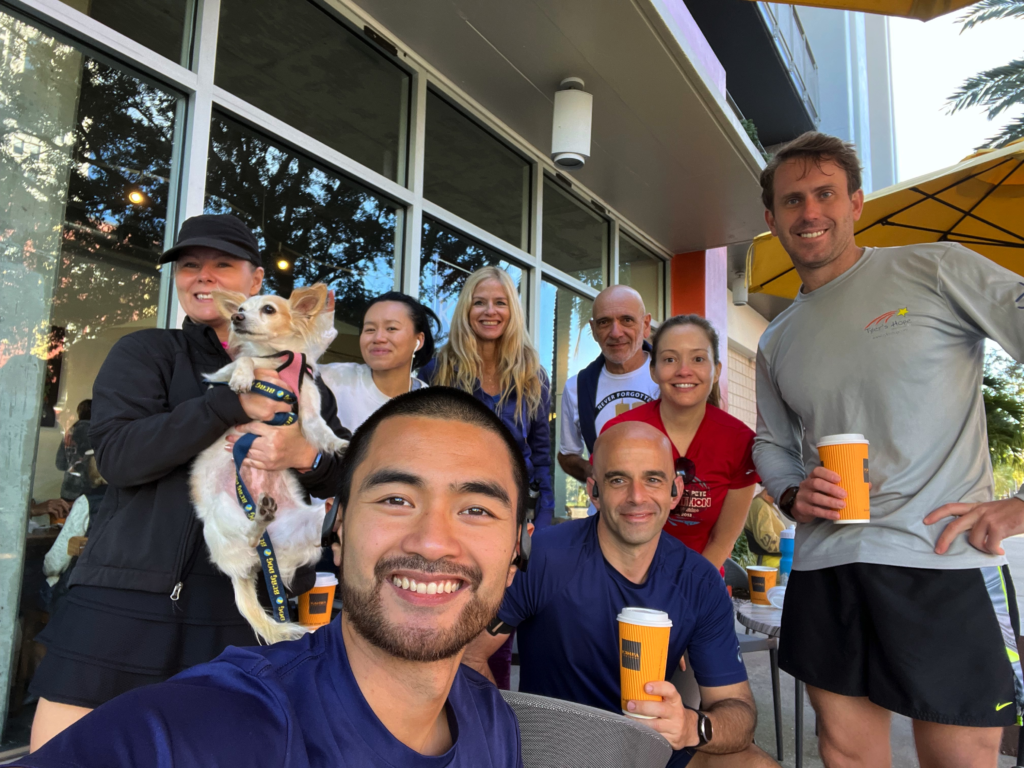 The Local Boxing Scene:
On Monday, I also visited Main Event Boxing Gym in St Petersburg, FL. Unfortunately, I came during off hours, and there weren't many people there training. A few trainers with a few private clients, but I didn't get to meet the owner or boxing team while there.
Main Event Boxing has a nice facility with boxing equipment, weights, and a large back area with tires and various other equipment. There were two rings, and one of the rings could use a little maintenance, as the flooring was a bit uneven. They had your typical selection of heavy bags, a double-end bag, and a speedbag.
There were also some more unusual bags at the gym. There were two aquabags, which I'm not used to hitting. In addition, they had a few bags attached with chains to their high ceilings. I've only seen this once before, in Lake Tahoe of all places, but never in any other gym I've visited. The feedback you receive from hitting the bag feels way different, as the bag moves around a little more unpredictably. For example, when I try to throw a double left hook on the bags, I'll notice the bag drift to an outside range (not even left/right, but back/forth) before I throw my second hook. It's strange and takes some getting used to, but also provides some opportunities to practice more footwork and moving around the bag.
Run Streak and Running Goals:
Progress: As of 12/5/21, I've now run 1,409 miles for the year, while maintaining my 339-day run streak.
Grassroots Kava House:
While here in St Petersburg, I also stumbled upon Grassroots Kava House. It quickly became a favorite place, and I frequented there regularly for the rest of my trip. They had a delicious "S'mores", "Blueberry Chocolate Muffin" and "Java Kava" cocktails.
I wrote about the benefits of kava. Again, I don't really think of it as an alcohol alternative, but do find drinking it relaxing and enjoy the taste.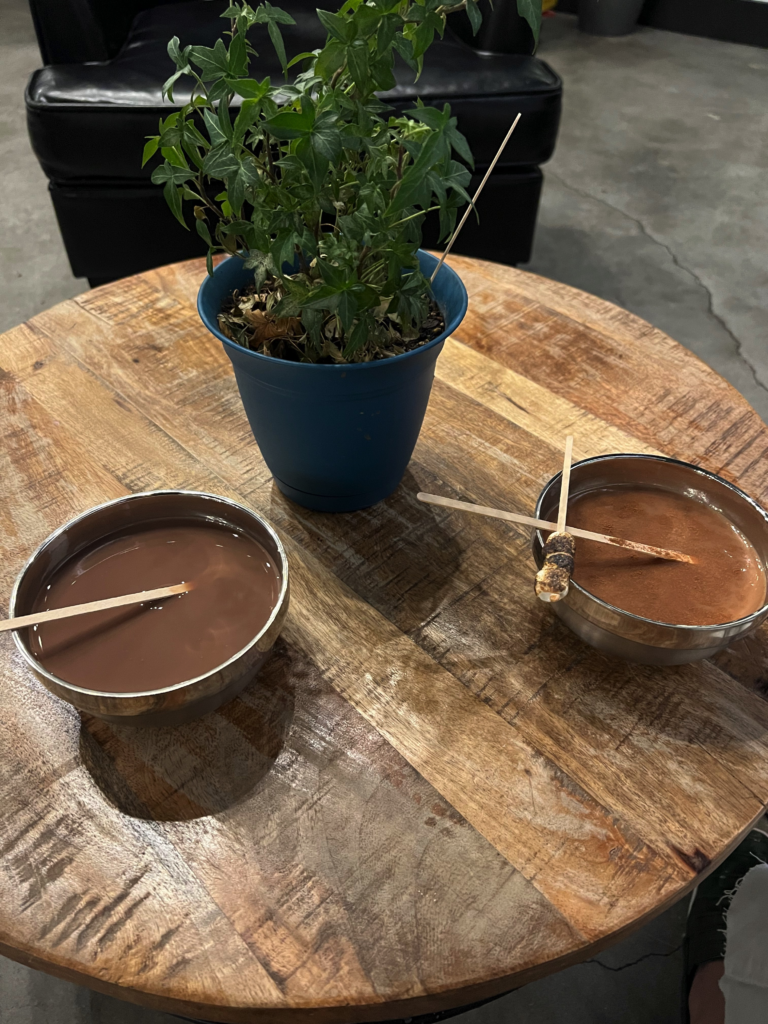 At Grassroots Kava, I also tried their Kratom drink as well, their Orange Dreamsicle blend of Kratom, Almond Milk, Orange, and Vanilla. Kratom offers relief from pain, depression, and anxiety and some people swear that it should be used as an alternative to opioids.
I would not recommend Kratom without doing research on it first. I tried one that was recommended to me as a first-timer, as it was weaker than the other ones they had. The person serving me compared the experience to drinking coffee. Although I may have felt a positive impact on my energy levels afterwards, about 3 hours later I felt nauseous like I needed to puke. I ate some food afterwards and my stomach settled and I felt much better for the rest of the night.
I won't be trying Kratom again anytime soon. I'll stick to Kava drinks!
Teofimo Lopez vs George Kambosos Jr:
Congratulations George Kambosos on a well deserved victory over the tough Teofimo Lopez. Kambosos showed his ring IQ in an all around great performance this past weekend. He had a great jab, and used his jab to set up his lead left hook throughout the course of the fight. He also caught Teofimo Lopez with a hard overhard right in the first round.
Teofimo Lopez was fighting with emotion from the opening bell. He didn't seem to be thinking clearly in there. The first round, he pushed for an early knockout and didn't stay defensively responsible in between throwing flurries and got caught. His dad didn't help either, both telling him to "take your time, take your time" before seconds later saying "finish him already!" and calling his knockdown a slip. Neither Teofimo Lopez or his dad seemed to know how to handle the moment.
I'd be interested to hear what Teofimo Lopez says after he has time to digest his first career loss. Him and his father saying he won 10+ rounds is not a good look. After the dust settles, he's going to have to be honest with himself and how he can improve from his latest performance. Seeing him come out extremely reckless had me thinking that he wasn't fully confident in his training, and wanted to score a quick knockout. Believe it or not, sometimes pushing for the early knockout is a display of weakness. It's like throwing a hail mary early in the fight. Teofimo's defense also looked terrible, with him overreaching and mistiming his blocks. He seemed both rusty and in the wrong headspace to be in a tough fight. This is entirely different than how he rose to the occasion against Lomachenko, when he worked behind his jab and attached the body.
I wouldn't write Teofimo Lopez off. I personally think he would be better off with a new trainer, as his dad is too emotionally invested in his son to see his fights objectively. Let's see how Teofimo Lopez responds in his next fight.
Health Share of the Week: $50 Off the Oura Ring!
Use my link above to get $50 Off the Oura ring and 6-months FREE Oura membership!
Throwback: Teofimo Lopez' bodywork against Lomachenko
Coach Ian's Classes:
As you may know, I am currently donating my time to host virtual online boxing classes for the members of our 501c(3) non-profit boxing gym, Dreamland Boxing. As an active member of Dreamland, you will receive the materials and video recaps of each lesson through my website under the "Premium Drills" section.
Dreamland has also increased its outdoor capacity to 16 students per class, and lifted limits on how many classes you can sign up for in a week. Join me for a class on Fridays at 4:30PM!
Our practices this week featured the following:
Throwing punches to the body
Catching and countering
Holding the pool noodles for mittwork
Throwing the jab when tired
Footwork
Body weight circuits
The SALLY UP Challenge!
And more!
You can view our full practices here.
Reminder:
You must be a registered member to sign up for a class, you cannot just drop-in! If you are a current member, you will receive a sign-up link to reserve your time slot every Saturday. Reserve right away because slots fill up quick (by Monday)!!
If no slots are available, sign up for the waitlist and you will be notified if any slots open up.
Visit http://www.dreamlandboxing.org or email dreamlandboxing7@gmail.com for more information on how to sign up today!
Subscribe to my newsletter!