This Week at Dreamland Boxing – 11/07/2020
Thank you to Brett Ostrowski for the awesome boxing photos of Sandra Magallon and Vicky Zhao sparring JJ Smith.
The new outdoor gym flooring has been completed – see our prospect Mark Salgado working the sled and battle ropes!
Happy Birthday Coach Luis!
In the Ring: Motivating your Fighter
This week, I'll share something sometimes overlooked – motivating your fighter. A good coach will not only be able to communicate the technical and tactical adjustments throughout the fight, but also uplift his or her fighter to perform at the highest level.
Here you see Dreamland's Jesse Huerta and his fighter Tommy on the same page. If you know anything about Tommy, he really likes that type of energy and it gets him mentally prepped between rounds.
Coach Ian Updates:
As you may know, I am currently donating my time to host virtual online boxing classes for the members of our 501c(3) non-profit boxing gym, Dreamland Boxing. As an active member of Dreamland, you will receive the materials and video recaps of each lesson through my website under the "Premium Drills" section.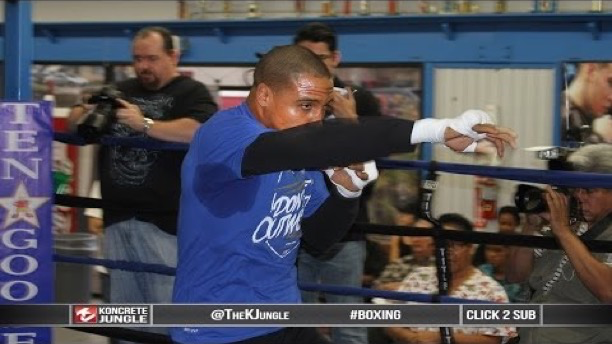 Professor Andre Ward puts on a shadow boxing class, 7 minutes in LA | True HD
This week, we broke down some of the things Andre Ward does in his training and fights. Similar to our Floyd Mayweather breakdown video, Andre also shadowboxes with intent and focus; you see him working defense, feints, angles, and various strategies in his shadowboxing warm up as if he's in the ring. You can view our full practices here.
Our Friday outdoor class was inspired by Gervonta Davis' highlight reel knockout of Leo Santa Cruz. We drilled the different counter punches from different ranges, including the counter uppercut that Gervonta threw. You can view the full practice and related drills here.
Meanwhile, Santa Clara County has been upgraded to allow 25% indoor capacity for gyms! I am taking things cautiously, and am keeping my classes outdoors for the time being, but Dreamland does have indoor options to suit your needs.
Reminder:
You must be a registered member to sign up for a class, you cannot just drop-in! If you are a current member, you will receive a sign-up link to reserve your time slot every Saturday. Reserve right away because slots fill up quick (by Monday)!!
If no slots are available, sign up for the waitlist and you will be notified if any slots open up.
Visit http://www.dreamlandboxing.org or email dreamlandboxing7@gmail.com for more information on how to sign up today!