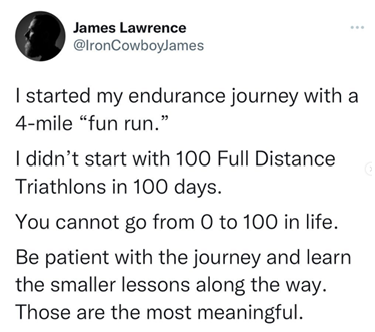 "You cannot go from 0 to 100 in life."
Iron Cowboy James Lawrence is known for completing 100 iron mans in 100 days. An ironman is 2.4 miles of swimming, 112 miles of biking, and 26.2 miles of running. Try that 100 days in a row.
But James' endurance journey started in 2004, after completing his first 4-mile run. He then went on to complete his first half-ironman in 2008 before turning it up a notch, completing 50 ironmans in 50 states in 50 days in 2015, which was featured in the documentary Iron Cowboy: The Story of the 50-50-50. He completed his 100 ironmans in 100 days in June 2021.
We live in a world of instant gratification. People want to sign up for a 12-week training program and complete their first marathon. But these things take time. In 2019, I wrote that marathon racing, itself, is a marathon. This year, I've logged many miles due to the consistency required in my 2021 run streak, but don't have any PRs to show for it. This has been another year of building habits related to my running and prioritizing non-fitness related goals, and not a year to go "all-in" on any particular race or athletic achievement. But I continue to train and learn new things, so I can hit the ground running when the time is right.
This attitude of patience and building in small increments is pervasive amongst all areas of my life. This applies to business, investing, relationships/marriage, and other pursuits as well. I've made it a mission to be addicted to the process of getting somewhere, than the high of the accomplishment itself.
Subscribe to my newsletter!