NorCal Silver Gloves 2022
Congrats to Cozme and Leo for winning the 2022 NorCal Silver Gloves!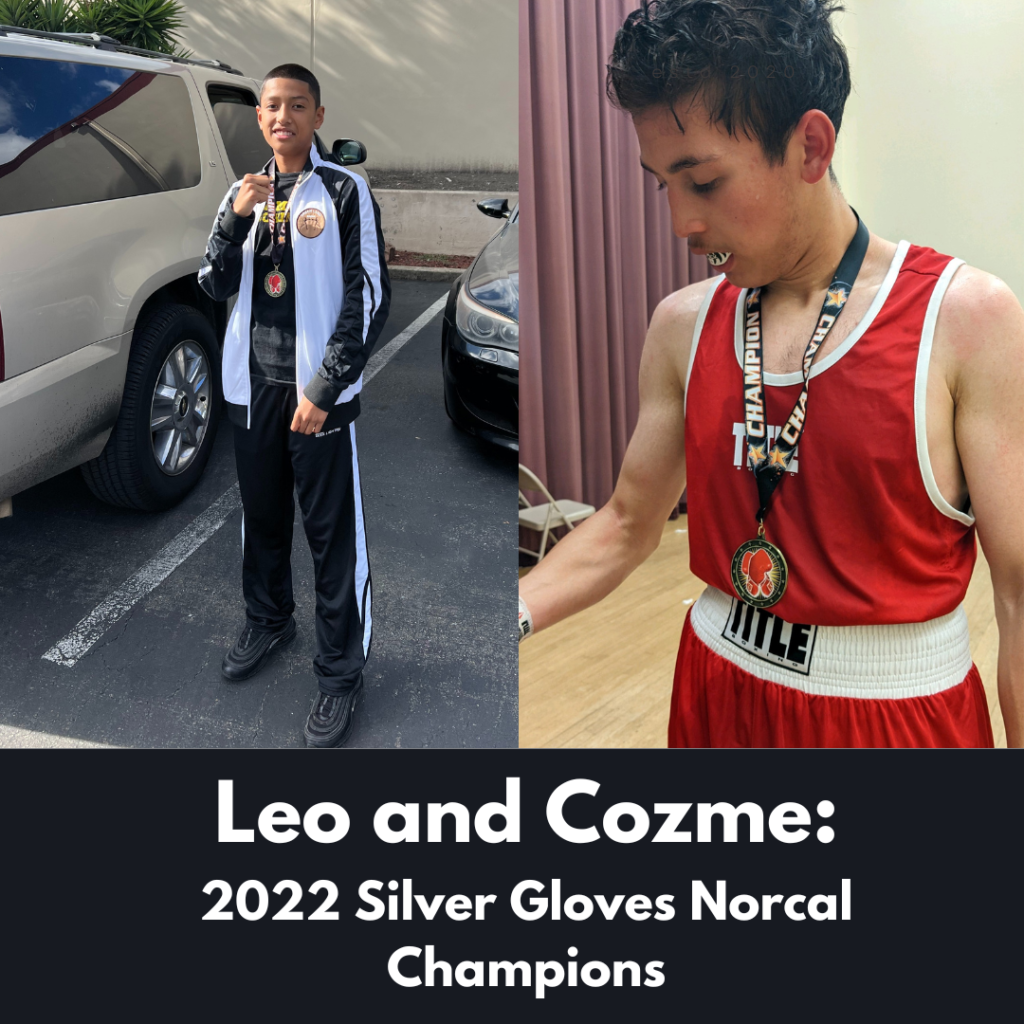 Leo and Cozme both won their fights on 11/5/22, which ultimately earned them the 2022 Silver Gloves NoCal Championships. On 11/12/22, Leo Sanchez was scheduled to fight in the final round of the Silver Gloves tournament, but was awarded the title when his opponent failed to make weight.
In the Silver Gloves tournament, the fights are three one-minute rounds. This is an extremely fast pace, and we changed our training to cater to the shorter timeframe. Amateur boxing is already about volume, but in this tournament – we made it even more so. Your footwork will be different when you sit on hooks to the body vs shoeshining. I talked about the difference in my class:
Coach Ian Boxing – Footwork for Quick Combinations
Leo and Cozme both did great in their fights. They threw punches in bunches, but also looked clean in doing so, not just flailing their arms. They kept a high workrate while displaying a lot of boxing skill.
Both Leo and Cozme are young and navigating how to handle winning and losing. They watch a lot of pro boxing and get caught up in going undefeated, but things don't really work that way in the amateurs. They each had their own experiences where things didn't go their way, and I'm proud to see they've grown and developed since then. We told them that these titles were earned – not just in the fights themselves but in all of the preparation they've had this entire year.
But they can't rely on the work they've put in thus far. The competition will only get stiffer. So we're on to the next one.
If you enjoyed this article, please sign up for my newsletter below:
About the Author:
Coach Ian is an ultra-marathon runner and a volunteer coach at the non-profit boxing organization, Dreamland Boxing, in San Jose, CA. He competed in boxing for both Dreamland and collegiately at UCLA. His goal is to empower all to be the best that they can be, in boxing and in life. You can find Coach Ian on Instagram, Facebook, and YouTube.