This Week at Dreamland Boxing 12/11/2021:
This Week at Dreamland Boxing – 12/11/2021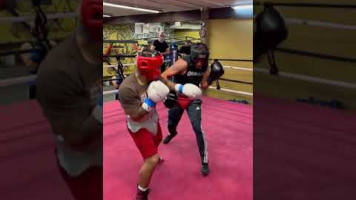 Stay tuned for news on Mark Salgado's next fight!
Mark got some rounds in with Justin Cardona (6-0)
The gym will be closed the week of 12/20/21 – 12/26/21 for Christmas
Dreamland Boxing will be hosting a show on 2/19/2022!
Intro to Sparring will be held every other Saturday. Members must have a physical on file to spar.
Members only sparring has begun! It will be held Tuesday and Thursday nights, every other week, for members approved by a coach with a current physical on file
The Willow Glen chess club meets at Dreamland Boxing on Fridays between 9AM-12PM on Fridays at 1PM-4PM on Sundays
Full video on www.iancruz.blog.
Mark Salgado Highlight:
Dreamland Boxing Training:
Coach Ian's Classes:
As you may know, I am currently donating my time to host virtual online boxing classes for the members of our 501c(3) non-profit boxing gym, Dreamland Boxing. As an active member of Dreamland, you will receive the materials and video recaps of each lesson through my website under the "Premium Drills" section.
Dreamland has also increased its outdoor capacity to 16 students per class, and lifted limits on how many classes you can sign up for in a week. Join me for a class on Fridays at 4:30PM!
Our practices this week featured the following:
Moving your head after throwing a punch
Blocking after throwing a punch
Throwing the jab when tired
Footwork
Body weight circuits
And more!
You can view our full practices here.
Reminder:
You must be a registered member to sign up for a class, you cannot just drop-in! If you are a current member, you will receive a sign-up link to reserve your time slot every Saturday. Reserve right away because slots fill up quick (by Monday)!!
If no slots are available, sign up for the waitlist and you will be notified if any slots open up.
Visit http://www.dreamlandboxing.org or email dreamlandboxing7@gmail.com for more information on how to sign up today!
Subscribe to our newsletter!
About the Author:
Coach Ian is an ultra-marathon runner and a volunteer coach at the non-profit boxing organization, Dreamland Boxing, in San Jose, CA. He competed in boxing for both Dreamland and collegiately at UCLA. His goal is to empower all to be the best that they can be, in boxing and in life. You can find Coach Ian on Instagram, Facebook, and YouTube.