Why I Started a Blog
2020 shook up our lives. Prior to the pandemic and shelter-in-place, I was hardly ever at home. I was consumed by my work, training fighters at Dreamland Boxing, coaching tournaments, training at PerformanceGaines, or on the trails preparing for marathons or OCRs. I would come home late, ready to hit the sheets, and repeat the cycle all over again. When the SIP started, all boxing practices, events, marathons, and the like were cancelled. I had to readjust my priorities and find new ways to motivate and reach our community.
Starting Off: Instagram Live Classes, Zoom Classes, and just trying to keep everyone active
I started off going on Instagram Live with Coach Sara Koshfam just to continue to keep our members engaged. I immediately also went on Zoom to host virtual classes for our members. Then I started editing some of the footage we had, and organized our videos in a way that a viewer could learn section-by-section, how to box from the ground-up. The idea started to foster into my mind to turn that footage from our classes into an online course that could help generate revenue for the gym while the gym was closed.
My first version of a course and then subsequent commitment to "make it right"
I tried throwing up our course content on Vimeo, at first. But then I realized that Vimeo takes too much of the cut, and I wanted to build the platform myself. Out of sheer luck, two of the students I coached (and had only met post-pandemic!) through IG live and my Zoom classes ended up being instrumental in the development of my site and course. Forrest had been doing my online sessions and I later found out that he runs the website www.jazzadvice.com, and sells courses through his website. Robert is currently getting his MBA at Santa Clara University and had a bunch of great insight onto building online courses. Both of them helped me so much in giving feedback and teaching me how to put out 6 online boxing courses.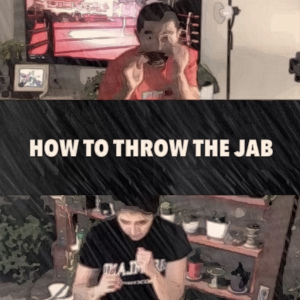 Deciding to combine my course with a blog
The idea to add a blog to drive traffic to the courses came later, but was an idea that I had in the back of my mind as early as 2017. I've always written about boxing, running, nutrition, and health on social media or in emails to my colleagues, so I wanted a place to organize my thoughts and be able to look back and reference them. Scrolling through my Facebook or Instagram to find a post from 2016 on a particular topic hardly seems like an efficient way to find my content. So I started organizing all of the things I had written (including a series of videos the entire year of 2018 called "This Week at Dreamland Boxing", which I restarted this year) and started throwing them on my site. And just like I have other resolutions to read, workout, or meditate, I added another resolution: to write weekly.
My resolution: to write weekly
Most of the time it's short. I've learned that it's actually hard to capture and keep someone's attention when there's so much entertainment, social media, and content to keep people's minds engaged. So my goal was to keep most of my posts under 500 words, although I do go over quite a bit. I never want this to feel like a "job", but do love writing about the topics I cover weekly.
The idea to start interviewing members of our community
And one Saturday, while doing yoga with my mom, my mom started going into all of the benefits of alternate nostril breathing. I then had the idea of throwing up a talk with my mom about some of her health practices. I wanted to keep it informal and short since, once again, I know that I'm competing with people's very limited time and attention spans. So I wanted a series of "bite-sized" talks with my mom on different topics that people may find interesting.
From there, I realized that while I may not particularly be the best interviewer (it's something my introverted self doesn't particularly like doing), I do have quite the unique network within the running, boxing, and functional health communities that can benefit each other. I feel that in highlighting different athletes and coaches in different fields, I can bridge different communities of wellness. And unlike the big podcasts out there, this is all local, with most of my guests coming from the Bay Area (and one from Southern California), so our listeners may be able to take action from what they hear, and maybe join a community and start tackling their various goals.
What I learned:
When putting out my courses, I told myself that even if the courses don't make any money, the entire project was a success. I learned a lot and, when least expected, met and rekindled friendships with lots of great people. I've had a few posts go viral (i.e. How to Train for Your First Boxing Match, Nasal Breathing: an Unlikely PR Strategy, etc.), but I've enjoyed writing regardless of the analytics.
Here are a few things I've learned throughout the year.
Virtual boxing lessons:
Contact can never be replicated, no matter how many virtual mittwork drills I do, but
Non-contact practices gave us the opportunity to focus on technique and various theories of boxing
We studied more film of the great boxers and gave our members a better understanding of the sweet science
We got creative with tools that we could use (a lamp? Laser pointer? Basketball? Household items for weave ropes, range finders, and visual targets)
We systematized our approach much more than previously, with very specific focus points ordered on a schedule that encourages development
Taught my fighters how to periodize their training for different goals when no events are in sight
Online Boxing Courses:
We created an organized set of boxing videos by section. In general, the practice of having all of my videos organized by topic in different folders helped me to periodize our in-person practices months in advance.
On a technical front, I learned how to build a site, set it up tiers or memberships, sell products, Google Analytics, setting up a Newsletter, and more about SEO than I cared to learn
Online Blog:
Writing helps solidify the things you've learned. I'm happy to share the latest things I read on my Week In Review column. And while it helps others, it also helps me to put my thoughts out in writing and helps me to have a deeper understanding of the material I write about
Thank you all for reading my blogs and viewing my content. Feel free to subscribe to my newsletter (coming soon!) below.
About the Author:
Coach Ian is an ultra-marathon runner and a volunteer coach at the non-profit boxing organization, Dreamland Boxing, in San Jose, CA. He competed in boxing for both Dreamland and collegiately at UCLA. His goal is to empower all to be the best that they can be, in boxing and in life. You can find Coach Ian on Instagram, Facebook, and YouTube.
Subscribe to my newsletter!