Coach Ian – Week in Review 12/12/2021
Book I'm Reading
Damage: The Untold Story of Brain Trauma in Boxing by Tris Dixon
Thirty Dollars and a Cut Eye by J Russell Peltz
Life is a Marathon, Not a Sprint: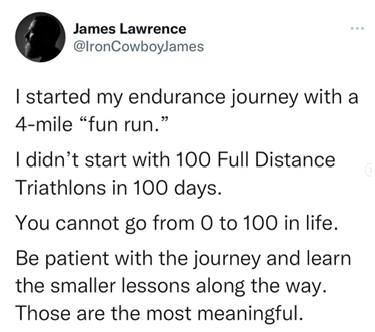 "You cannot go from 0 to 100 in life."
Iron Cowboy James Lawrence is known for completing 100 iron mans in 100 days. An ironman is 2.4 miles of swimming, 112 miles of biking, and 26.2 miles of running. Try that 100 days in a row.
But James' endurance journey started in 2004, after completing his first 4-mile run. He then went on to complete his first half-ironman in 2008 before turning it up a notch, completing 50 ironmans in 50 states in 50 days in 2015, which was featured in the documentary Iron Cowboy: The Story of the 50-50-50. He completed his 100 ironmans in 100 days in June 2021.
We live in a world of instant gratification. People want to sign up for a 12-week training program and complete their first marathon. But these things take time. In 2019, I wrote that marathon racing, itself, is a marathon. This year, I've logged many miles due to the consistency required in my 2021 run streak, but don't have any PRs to show for it. This has been another year of building habits related to my running and prioritizing non-fitness related goals, and not a year to go "all-in" on any particular race or athletic achievement. But I continue to train and learn new things, so I can hit the ground running when the time is right.
This attitude of patience and building in small increments is pervasive amongst all areas of my life. This applies to business, investing, relationships/marriage, and other pursuits as well. I've made it a mission to be addicted to the process of getting somewhere, than the high of the accomplishment itself.
Cryotherapy vs Ice Baths:
While in Cincinnati (Hyde Park), I stopped by iCRYO. I noticed their prices were considerably cheaper than the Bay Area ($29 for 2 people first time, otherwise $29/session). I usually recommend ice baths because they're free, as opposed to paying the standard $75+ for cryo.
Besides the price, there are other differences between ice baths and cryotherapy:
• Cryo is typically done for 2-3 minutes, while ice baths are done for 5-10 minutes
• Cryo can be done as low as -184 F whereas ice baths are done at 30-50 F
• Cryo uses dry cold vs ice baths which use wet cold
Personally, I prefer ice baths because they force you to "quiet all of the noise" around you. They're more painful than cryo, and if you tense up or try to fight the cold, you'll end up in much more pain. It's only when you relax and breathe through the cold that you stop feeling any pain. During a Wim Hof workshop I did, many participants said that they would've had a much harder time in the cold had they not known how to meditate or breathe.
G tum-mo "inner fire breathwork" was practiced by Tibetan Buddhist monks and can raise body temperature by as much as 17 degrees F. In addition to raising body temperature, g tum-mo helps participants to handle stress. These same practices that we use to handle the stress of being cold can also help in other stressful situations where you need to "quiet the noise" around you (ie before competition).
That's not to say cryo doesn't have its benefits. In terms of muscle recovery, it's likely to produce the same benefits. If you have limited time, the convenience and shorter sessions may be appealing as well.
Tummo Breathing:
How to Do Tummo Breathing – Inner Fire Technique (FitMind Tutorial)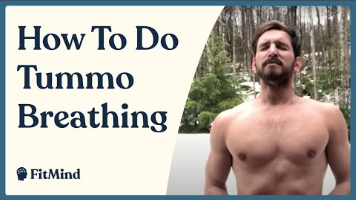 Run Streak and Running Goals:
Progress: As of 12/12/21, I've now run 1,435 miles for the year, while maintaining my 346-day run streak.
Featured Article (Throwback): Turning 30
"So someone's good at taking down an opponent, but that doesn't make them more community-minded, or modest, or well-prepared for any circumstance, or more tolerant of the faults of others."
-Marcus Aurelius, Meditations
I used the daily passage of "The Daily Stoic" by Ryan Holliday to write my 30th birthday post. I wrote about why I share my journey, intrinsic motivation, why I tune out other people's compliments, and why I don't share many private aspects of my life.
Health Share of the Week: $50 Off the Oura Ring!
Use my link above to get $50 Off the Oura ring and 6-months FREE Oura membership!
Throwback: Adjustments – Gervonta Davis' knockout of Leo Santa Cruz
Coach Ian's Classes:
As you may know, I am currently donating my time to host virtual online boxing classes for the members of our 501c(3) non-profit boxing gym, Dreamland Boxing. As an active member of Dreamland, you will receive the materials and video recaps of each lesson through my website under the "Premium Drills" section.
Dreamland has also increased its outdoor capacity to 16 students per class, and lifted limits on how many classes you can sign up for in a week. Join me for a class on Fridays at 4:30PM!
Our practices this week featured the following:
Moving your head after throwing a punch
Blocking after throwing a punch
Throwing the jab when tired
Footwork
Body weight circuits
The SALLY UP Challenge!
And more!
You can view our full practices here.
Reminder:
You must be a registered member to sign up for a class, you cannot just drop-in! If you are a current member, you will receive a sign-up link to reserve your time slot every Saturday. Reserve right away because slots fill up quick (by Monday)!!
If no slots are available, sign up for the waitlist and you will be notified if any slots open up.
Visit http://www.dreamlandboxing.org or email dreamlandboxing7@gmail.com for more information on how to sign up today!
Subscribe to my newsletter!