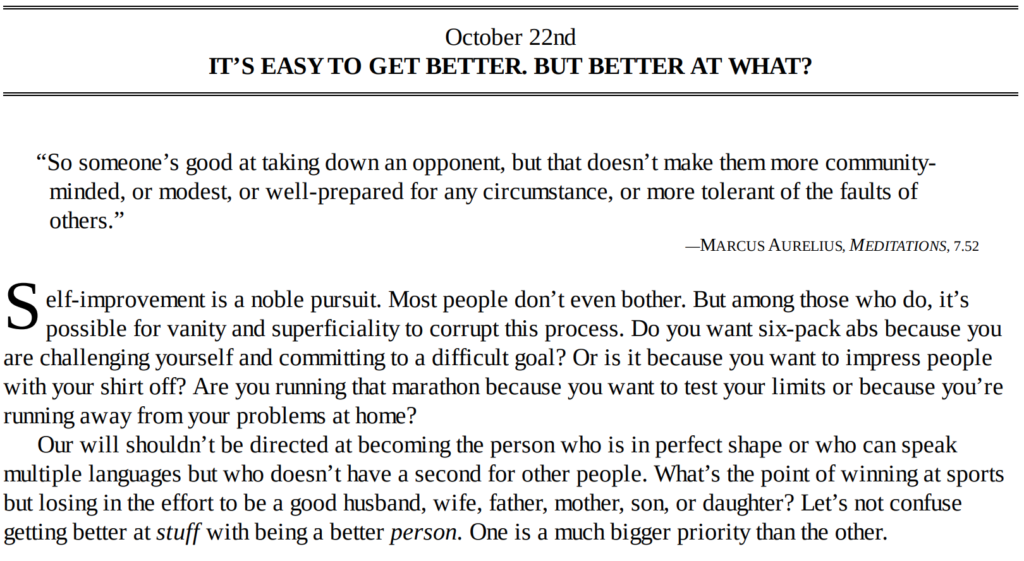 Ryan Holliday, The Daily Stoic: 366 Meditations on Wisdom, Perseverance, and the Art of Living

I read this passage on my 30th birthday. How fitting. Something I've been contemplating the past two years has been the why of all of my goals. 5 years ago, I was fueled by extrinsic motivation. I had lost 42 pounds in 4 months, partly motivated by regaining my health but, in all honesty, partly motivated by vanity. I shared my accomplishments and got caught up in the cycle of social media and being validated with likes and comments of congratulations.

In 2019, one of the themes of the year was intrinsic motivation. I ran a marathon without telling anyone. I bought a condo and didn't post about it on social media. More recently, I was promoted at work and didn't post about it. I set boundaries on my personal life, and stopped posting about my relationship with my partner. These are the aspects of my life that I don't want fueled, in any way, shape, or form, by the feedback loop of being validated by others. I hold zero weight on other's opinions, which people often say to avoid negativity. But to me it also means that I'm mindful not to put any weight on any compliments, congratulations, or awards (race medals, etc.), because that's not what motivates me. My effort in training, my career, my life timeline, and the strength of my relationship have nothing to do with other people's perceptions or recognition.

Social media's funny, though, because with it you have the power to influence and inspire a lot of people. I continue to post frequently to share my journey and relay any information that I've learned along the way. I'm not the greatest athlete, by any means, but my intersection of different athletics and communities (boxing, functional fitness, ultrarunning, functional health)  is unique, and I enjoy sharing my unique experience and lessons dabbling in different fields.

Recently, a former boxer of mine ran 30 miles for his 30th birthday. Another boxer that I actually coached against reached out to me asking for marathon tips. A coach I met in 2012 in London reached out and supported our gym with a very generous donation while we were shut down during the pandemic. Many former colleagues and old connections reach out with questions, all of which I am happy to provide guidance. The dark side to all this social media is that, with my role in promoting and marketing various organizations (Dreamland Boxing, my blog, my online courses, the Big Sur Marathon Foundation, the San Francisco Half Marathon, Ample Meal, and D2E) I naturally get caught up looking at analytics, and trying to get more views, likes, and comments etc. Chasing metrics isn't fun and can take the passion out of what I do, but the bigger underlying goal here is to help inspire others to live a healthy life. That's why I share my story.

Turning 30: What Motivates Me Now:

My mom taught me that life resets every 7 years. The first three septennium's in our life we experience big environmental changes (entering high school, graduating college and entering the work force, etc.), so it's easy to reconcile those different stages of life. 28, though, seems more arbitrary but came with some major life changes as well. While some people think of 30 as being a milestone year leading up to another decade, I really think that it's just year 3 of another septennium (28-34). One that I'm just starting to figure out.

I met Kathy at 27. After turning 28, I bought a place, we moved in together, and now have bigger family commitments and external factors at play in my life. Earl Hooks and I had a nice conversation about this, but we can't make fitness or our goals the centerpiece of our lives. It's not just about me anymore. I have to find a way to fulfill my role as a partner, a friend, and family member in the same way I have to fulfill my roles in my career or within the fitness or boxing community. That means re-prioritizing and stepping back where necessary. I alluded to this at the end of last year as well, this ongoing realization that not every year will I be able to prioritize PRs year after year. And every year my priorities will differ (and it will probably be cyclical). So some years my articles may look like "The Ultimate Training Plan for a Marathon PR", while other years may look like "How To Balance a Career with a Marathon Training Schedule". Right now, it's the latter. And I'll continue to share the journey along the way.
Subscribe to my newsletter!