Coach Ian – Week in Review 12/27/2020:
What I'm Reading:
PB: The Paul Brown Story – Paul Brown and Jack Clarry
A Promised Land – Barack Obama
Merry Christmas Everyone!
Quote of the Week:
"If you want to run, run a mile. If you want to experience a different life, run a marathon. If you want to talk to God, run an ultra."
-Dean Karnazes
What I'm Reading:
How average glucose levels impact COVID outcomes.
I've noted previously that those with diabetes have worse outcomes when contracting COVID-19. Levels Health, a startup making continuous glucose monitors (CGMs) more widely available, wrote a great piece on four studies that demonstrate the correlation between high blood sugar and worse COVID outcomes.
Boxing Share of the Week:
Boxing 101 – There is no one right answer in boxing!
I get asked a number of questions while coaching: Is the shoulder roll better than the high guard? Should I cross-block or keep my back hand by my cheek? Do I block the uppercut with the same-side hand, or do I use the opposite hand so I can free up my other hand for a counter-punch?
If you're asking questions – great! The truth is, there's no one definite answer to every situation. You're in there with a live opponent who can react to your every move and pick up on your tendencies. Read more here.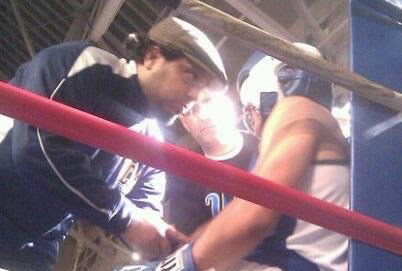 Running Share of the Week:
Running Mistakes – Lessons from my First Marathon
I wrote about my experience leading up to my first marathon and some of the false impressions I had. Being the type-A, super competitive type, I often stacked too many races too close together, didn't plan enough mileage to ramp up to a marathon, and made a few other mistakes along the way. Read more here.
The Kaiser Permanente Half Marathon:
The Kaiser Permanente San Francisco Half Marathon, 10K & 5K are GOING VIRTUAL and I'm joining in as an official Ambassador! Enter any of the races individually or sign up for the "Triple" Peaks Challenge to tackle all three. You'll receive a participant shirt and medal just for signing up. Registration opens, Nov. 2nd.
This Week at Dreamland Boxing:
Merry Christmas to the Dreamland family! We are currently on a break for the month of December, and will re-open when it is safe to do so.
Meanwhile, I have continued to host our virtual boxing sessions. Thank you to our members for keeping your memberships active and continuing to support our gym during this time. And I'm personally glad to have been able to aid in your boxing development all year! This week we discussed:
The GGG fight and how he was able to score knockdowns with the jab, left hook, and right cross
How to generate power from the jab
Why Callum Smith's height and reach wasn't an advantage in his fight against Canelo Alvarez
How to effectively keep a fighter on the outside
Directional practice: How to stay away from certain punches, how to turn your opponent
What Canelo Alvarez did right in his fight against Callum Smith
What Canelo Alvarez could have done better in his fight against Callum Smith
Kettlebell Circuits: Working segments of the Turkish Get Up
Kettlebell single-arm swing circuits
You can find a full list of drills if you are a current Dreamland Boxing member in the Premium Drills section of my website.
Subscribe to my newsletter!