Quicksilver 50K: 31 Miles for 31 Years!
Ultramarathon #3: Quicksilver 50K
On my birthday weekend, I continued my annual tradition of celebrating my birthday by running a race. I wouldn't have celebrated my 31st birthday any other way. The highlight of my race was the people I saw along the course and seeing my family and friends at the finish line.
I like to share my story to inspire others into making the unbelievable things reality. And to know that the things that I think are crazy (running 50K), are completely normal to others and that there's an entire community of people that have pushed themselves to run 100K's and further.
Quote of the Race:
"I set out to live an UN-believable life, and accomplish UN-believable things."
-Caleb Plant
In my race recap, I write about the following:
A conversation with the 100K overall winner, Ryan Ung, who also worked for Supersapiens and wears a continuous glucose monitor during races
The 100K 1st place finishers glucose strategy for racing (i.e. his minimum baseline for glucose)
My insights running with the Supersapiens CGM app
How I spent 44% of my race in the "low-intensity" zone of blood sugar
Why most food supplied at races are junk (i.e. M&Ms, Cinnamon rolls, Snickers, Cookies, etc.), and what food sources I chose at the aid station (Sweet Potato, Banana, That's It! Bar, Nuts, Seeds, etc.)
Why I chose Spring Sports Nutrition Gels to power my race, in addition to HVMN ketone esters
How a late-night game two nights prior impacted performance
How long I plan to continue to running my age in years
The camaraderie of running
Congrats to Jenn, Christine, and Jaymin for completing their 100K!
Overall race:
The Quicksilver 50K is a race in my backyard of San Jose, CA. More specifically, it's in Almaden, which is where I grew up and went to high school. So it's definitely a familiar trail, unlike the past two ultramarathons that I had to travel to (Arizona and Utah).
Every race comes with a different challenge. The Antelope Canyon 55k was sandy. The Big Chief 50K started in high elevation. The Quicksilver 50K had the highest climb – 6,000+ft over the course of the race.

Race Day:
Though it was forecasted to rain heavily that day, we lucked out with perfect weather!
I didn't record much footage, but ran into Pradeep who recorded much of his experience running the Quicksilver 50K and put it on YouTube. His video captured the beautiful trails and provides a glimpse into the supportive nature of the ultramarathon community as well as various experiences ultrarunners go through during race day.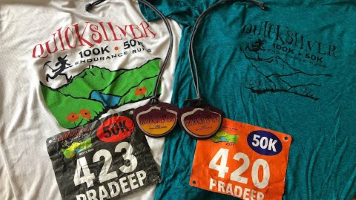 Running on my Birthday
Running a marathon to celebrate my birthday has been an annual tradition ever since I ran 27 for 27. This year was no different, and I was happy to run this year's race, the Quicksilver 50K, in my backyard. I don't do much in the way of celebrating, so having my fiancé, family, and a few friends there to celebrate was all I needed. With a local race, I ended up seeing a lot of other runners from the community as well.
Training up to the Race
Unlike other ultramarathons I've run, this race has a dedicated set of training runs put on by the Quicksilver Running club. As someone who hates the idea of running long-distance alone, I loved that they put these training runs together. It also allowed for us to meet some of the runners who we'd be seeing on race day.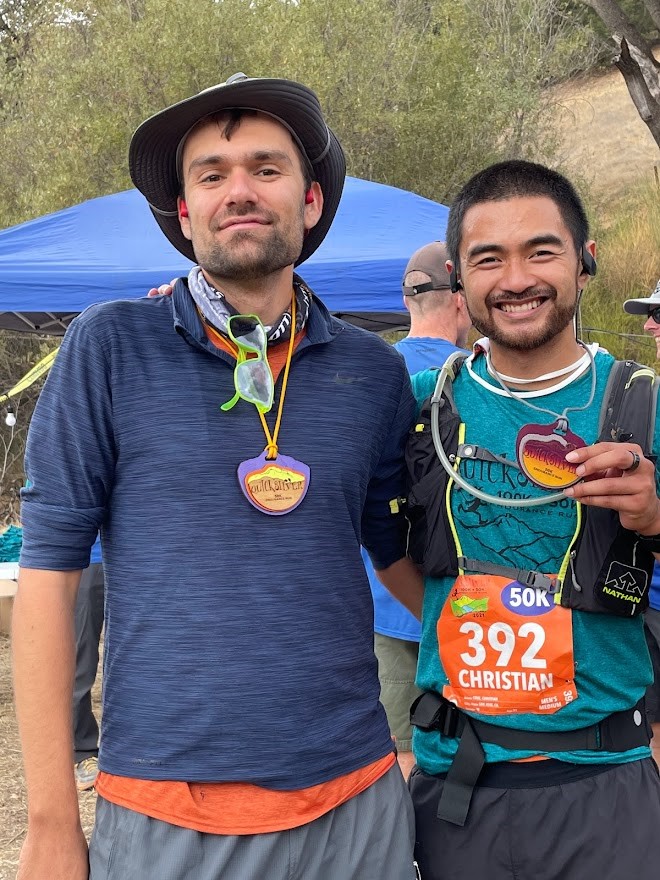 The Nights Before the Race
To celebrate my birthday, Kathy and I went to the Warriors-Clippers game at the Chase Center (in San Francisco) on Thursday night. It's not the norm for me to be out late on a week night preceding a race. But there's something about birthday runs that I take less seriously, knowing my goal isn't to PR. I went back and forth as to whether I wanted to go out, but ultimately decided to go out given it was the Clippers' opening game. Clip gang or don't bang!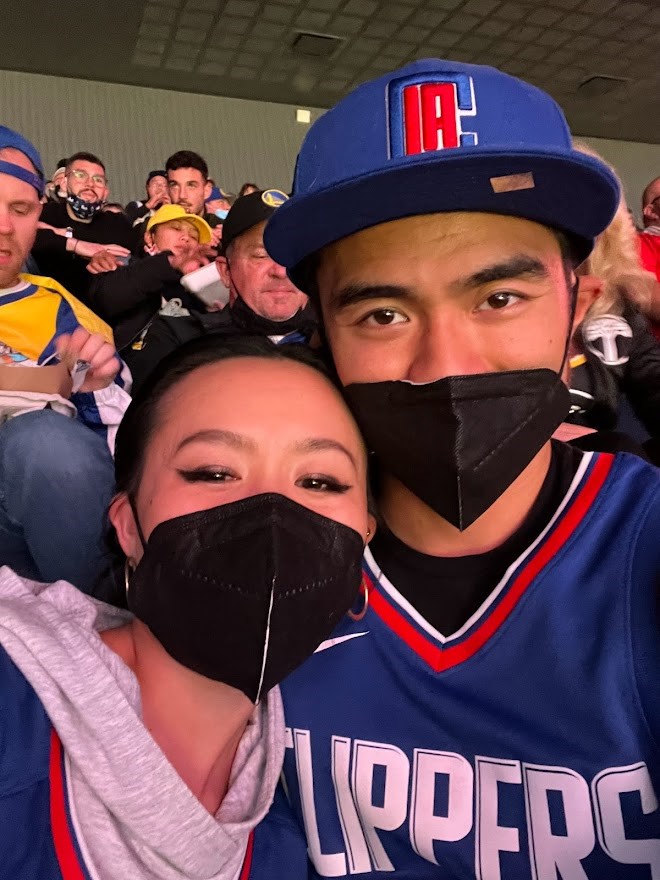 I had a fun time at the game, despite watching Steph Curry drill two late threes to seal the game and beat my Clippers. But COVID had me forgetting what it's like to go to events and how hard it is to exit the stadium after the games. We waited about an hour to make it out of the parking lot. We had also skipped dinner to make it to the game on time right after work, so we figured we'd grab late night tacos given most restaurants were closed by this time. I remembered El Farolito as a place having a good burrito, and after hearing Kathy had never been there, insisted we go.
My diet has tightened up quite a bit since the days I used to eat there. A lot of the foods I used to love eating, I don't touch anymore. The burrito I ate had me feeling lethargic the entire next day. I went to eat sushi on Friday night before my race, with Kathy and her mom to celebrate her mom's bday (the same day as mine!), but felt really groggy during dinner.
Friday night, I registered a +1.4 degree temperature (i.e. 100 degrees) and my Oura gave me a readiness score of 57. Unlike normal races, I didn't wake up with an adrenaline rush and an excitement for the race. I just kind of went through the motions. Part of me knew I didn't feel great, so my focus was to just stay composed and get out there to run.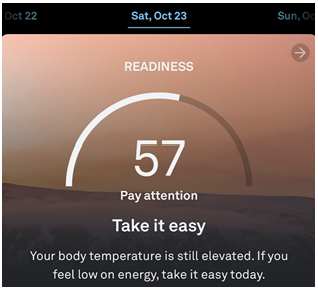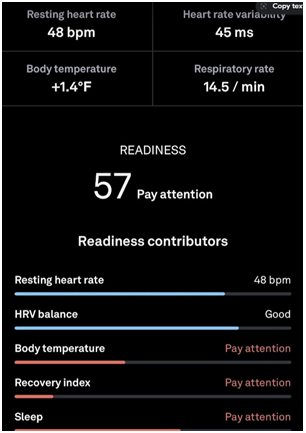 Goals for the Race (vs the fluid nature of goal setting)
After running the East Canyon Marathon, I wrote about the fluid nature of goal setting during races. At the start, you may have an ambitious goal, followed by a less ambitious goal if you don't meet certain times at certain points. I find this to be most relevant during marathons, which are, in my opinion, the most grueling distance to run.
During the Quicksilver 50K, I had a conservative goal of 8 hours. My main goal, really, was to enjoy the day and preserve my health if I started to feel sick. It was my birthday after all! I ended up staying right on pace the entire race and never stressed that I was going too fast or too slow.
With about half a mile left, I saw Bertrand waiting there for me. Turns out, as he was cheering on other runners that he coaches, he ran into my family. My family told him that I was expecting to finish at 3PM, so he ran out to find me. I ran with him to the finish, and came in at around the time I expected, maybe 10 minutes to 3PM.
Post race thoughts: I was initially super happy that I set out for an 8 hour 50K, then ran a 7:50ish 50K. But eventually that voice in my head challenging for more started to speak. Part of the 8 hour goal was estimating the level of difficulty, and perceiving the 6,000+ ft of elevation to make the race more difficult than the Big Chief 50K.
After some reflection, I'm starting to think that running 4,000+ ft of elevation gain in Lake Tahoe (i.e. starting at 7,000ft gain) was much more difficult than running in near sea-level and gaining 6,000 ft elevation. That has me feeling like the race was a missed opportunity for a PR.
All things considered, I have to remind myself of how I felt before the race and the fact that it was my birthday. I know there will be many more changes to run a lot faster!
Inspiration
While running, I met Jeff, a very experienced ultrarunner who had run Badwater 135, along with a number of other ultramarathons. When you start running ultramarathons, you realize that his story is one of many, and that there's actually quite a community of people accomplishing these superhuman feats.
Jeff had turned 75 this year, and ran 75 years for his 75th birthday. Inspo. I hope to stay healthy enough to keep running my age in years.
Congrats to Jen, Jaymin, and Christine!
I did many training runs with Jen, Jaymin and Christine, who were preparing for the 100K. Jen is the reason why I run ultramarathons in the first place, as she recruited me for my first one, the Antelope Canyon 55K. All three finished the 100k, with Jen qualifying for the Western States 100M lottery. Congrats all!!
Running alongside the 100K winner
At around mile 28, a runner passed me by and said hi. I noticed he was wearing a Supersapiens hat and immediately tried to keep up with him to ask him questions. What's funny is that I had no idea he was running the Quicksilver 100K instead of the Quicksilver 50K, and I also had no idea he was pushing through his pain cave trying to win the race. Rather, I'm here babbling about continuous glucose monitors and how cool I think the Supersapiens app and company is. He was nice, yet intense, and eventually he nicely cut me off and said "let's talk more at the finish line," and took off, as he should have long ago!
Supersapiens
Supersapiens is an Atlanta-based startup that is using CGMs (continuous glucose monitors) to help athletes optimize their training and performance. CGMs provide live data of each individual's glucose levels, which can be very helpful while racing to help athletes decide when they need to fuel. Supersapiens uses the Abbott Libre Sense, an updated CGM only available in Europe. This is a much better CGM than the Freestyle Libre that is available in the United States, and the version that Levels Health uses. The Libre Sense continuously measures glucose without having to scan your phone to your sensor. The biggest game changer to me, is the fact that it pairs with your Garmin watch, so you can easily see your glucose levels on your watch without having to pull out your phone.
The runner I met was Ryan Ung, a former Director of Events at Supersapiens, who ultimately did finish 1st in the 100K with a time of 10 hours and 7 minutes. I caught up with him at the finish line and congratulated him for finishing 1st and asked about how he uses his glucose monitor to help in his performance. He doesn't focus on his glucose maximum as much as he does on his glucose minimum. Ryan races with a lower limit of 130mg/dl and fuels when he sees his glucose getting around that level. He said the highs were around 170 mg/dl, but noted that many professional athletes see their glucose levels rise above 200 mg/dl.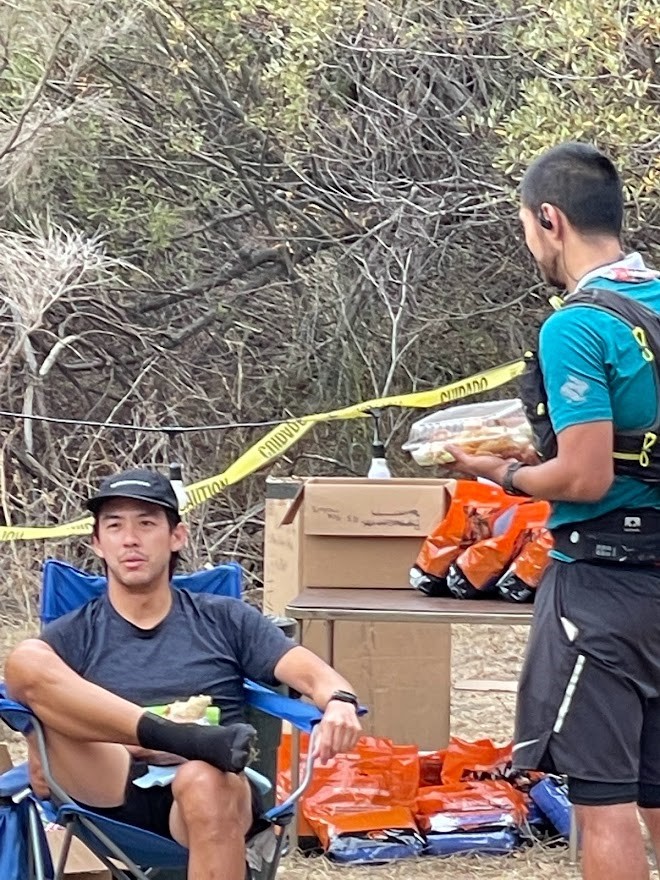 Of course, I had to ask him about the differing approach between Supersapiens and Levels Health. Levels Health is another company making CGM's more readily available for non-diabetics. They have an all-star lineup of advisors, including Dominic D'Agostino, PHD, David Perlmutter, MD, Sara Gottfried, MD, Mark Hyman, MD, and David Sinclair, PHD.
Levels' approach is to always keep glucose levels between 90-110mg/dl, and avoid large spikes during meals. When I asked one of Level's cofounders, Josh Clemente , about the divergence of glucose level approaches, he said that high glucose levels should only be set for individual races and not all training. When I asked Ryan about Levels overall as a company, he replied "isn't that a diet company?" Well, not exactly. I would say Levels is focuses on overall health and longevity, but it seemed like he didn't know much about them.
I always try to reconcile the two approaches, so I was pleased to hear that Ryan also keeps his glucose levels low in training. He said most of his training runs are in that 110 range and his 130 minimum only applies to race day. This was re-assuring as he has a consistent approach with what Levels prescribes, despite not really coming from that school of thought.
My Supersapiens data
That being said, my glucose data for the race was horrible, with me registering a glucose score of 23. This shows how difficult it is to reprogram myself from lower carbs. I'm always keeping my glucose numbers within a tighter range, and never getting into the optimal glucose ranges that Supersapiens prescribes. It's an adjustment for sure, and one that I hope to implement during my next half-marathon or marathon.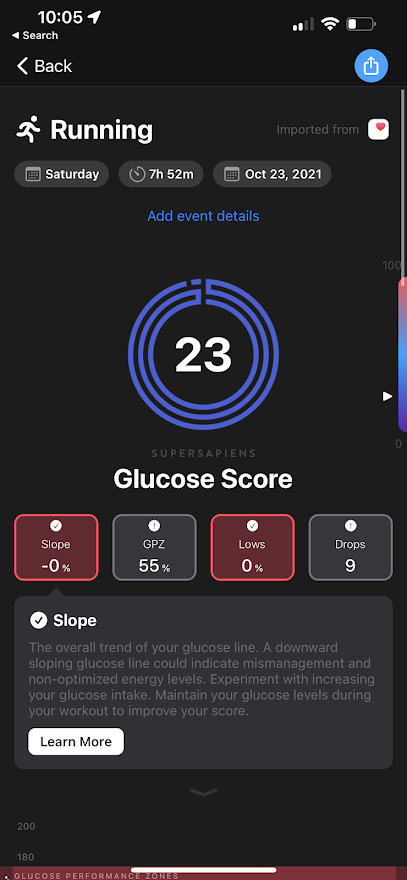 I'm really not motivated to get my glucose super high for an ultramarathon, given the amount of time I'll be racing. There's a trade-off between performance and longevity, and given that I really don't have any time goals for ultramarathons, I'll keep my ultramarathons in ketosis and avoid the high levels of oxidative stress associated with constant glucose loading. I think I can do a little better than a glucose score of 23 (ha!), but I won't go too crazy with it.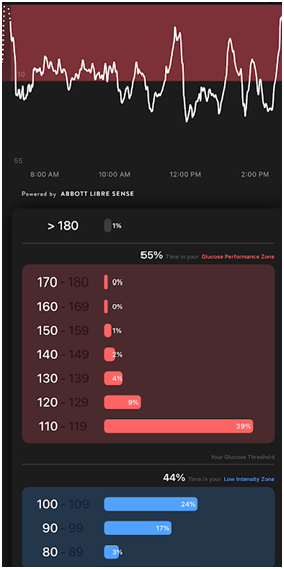 Compared to the 1st place 100K winner Ryan Ung, I only spent 7% of the race above 130 mg/dl, which was his baseline. 44% of the race was even in the low intensity zone. That's hardly where you want to be if you're competitive and pushing for a PR.
CGM and Energy Management for Athletes
Fueling
Once again, I used HVMN and UCAN Superstarch. I had a UCAN Carb shake prior to the race. But unlike prior races, I didn't bring any UCAN gel packets, and tried another gel packet and food at the aid stations.
Pre-race: I used UCAN superstarch as a slow-burning carb to avoid any blood sugar crash.
Periodically during the race: I also took about 5g of HVMN's ketone esters which are an exogenous ketone source. This is an alternate source of energy (ketones are the byproduct of fat metabolism). Typically, the presence of insulin stops fat metabolism, so people don't fuel off of carbs and ketones at the same time. HVMN's ketone esters supposedly allow you to carb load and also be able to fuel off of ketones.
Food source: I discovered SPRING gels at Sports Basement while picking up my bib. As you know, I'm not huge on loading solely sugar for racing, so I was interested in Spring's ingredient list. I only bought 2 packets, and they tasted great! I just wish I bought more so I could take more during my race. Going forward, I will probably fuel with a combination of SPRING Gels and UCAN Gels.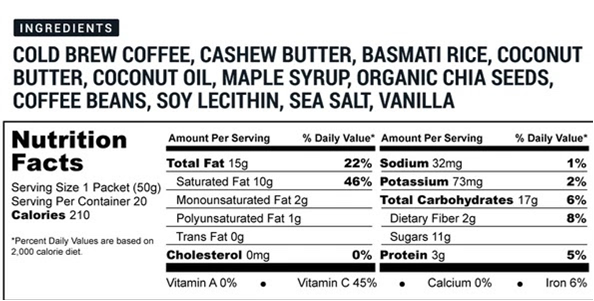 Aid station food source: I love the running community, but I'm not a big fan of the prevailing attitudes towards nutrition within the running community. Many runners think, "I run to eat". While I definitely ease up with my diet after races, I think some people take that attitude too far. I loosen up on how much I eat, but not necessarily the quality of the foods I eat. For example, after my race, I reloaded my carbohydrates with homemade lasagna, but not a bunch of cinnamon rolls and candy.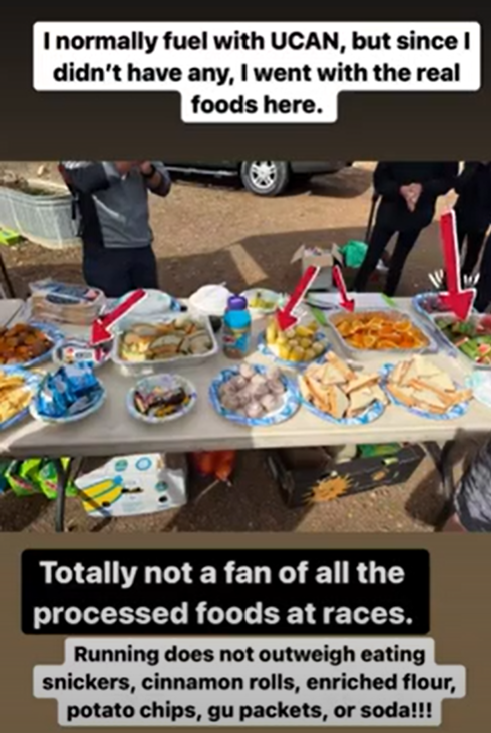 Out of the foods listed above, I would only go for the "That's It" bar, the bananas, oranges, watermelons, and sweet potato. I personally don't recommend fueling with snickers or cinnamon rolls. I tried the sandwhich, which used enriched flour and had a huge blood sugar crash about 30 minutes later. Typically fast blood sugar spikes lead to blood sugar crashes, so it's best to look for a stable source of glucose.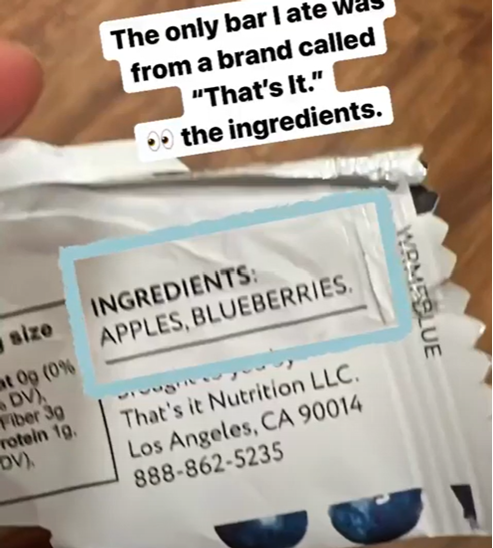 Sometimes the best foods are simple. I liked the "That's It" bar, because that's really all you need. Not a bunch of ingredients that you can't pronounce.
Heart Rate Data:
After my Big Chief 50K ultramarathon, I wrote about how I keep my HR below 152bpm for ultras. That seems to keep me in an aerobic state the entire race and is the reason why I feel that 50K's are easier than marathons. After the East Canyon Marathon, I wrote about the higher threshold I allow, since I'm a bit more competitive.
The Quicksilver 50K was a bit different. I treated it like a birthday run, and took it a bit easier.
Quicksilver 50K: 7:34 moving time, 7:52 with stops, 128 bpm average, 173bpm max
Big Chief 50K: 6:59 moving time (7:30 with stops), 148bpm average, 191bpm max
Half-marathon PR: 1:36, 183bpm average, 196bpm max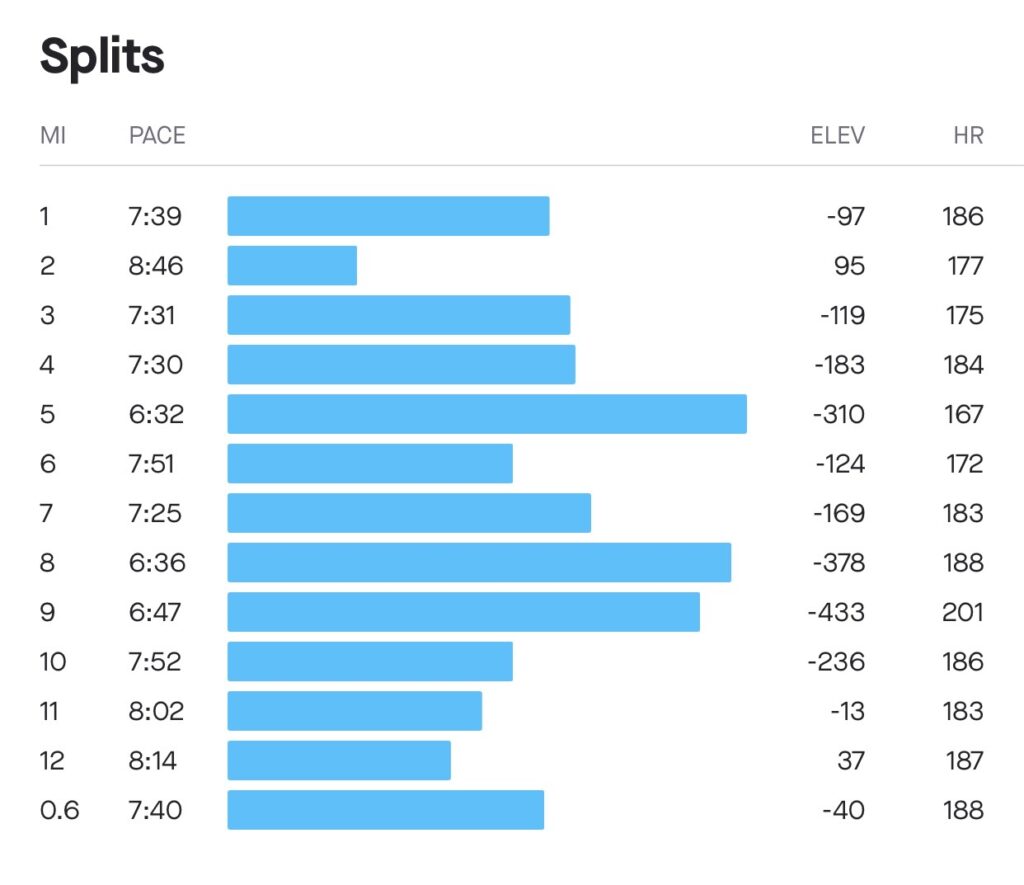 Marathon PR: 3:42, 162bpm average, 210bpm max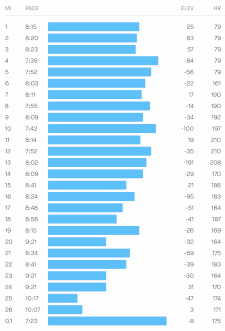 Suggested Podcasts:
Subscribe to my newsletter!