Coach Ian – Week in Review 10/26/2021
Book I'm Reading
Damage: The Untold Story of Brain Trauma in Boxing by Tris Dixon
Thirty Dollars and a Cut Eye by J Russell Peltz
Run Streak and Running Goals:
Progress: As of 10/24/21, I've now run 1,266 miles for the year, while maintaining my 297-day run streak.
I ran the Quicksilver 50K on Saturday to celebrate my 31st birthday with 31 miles. I can't wait to share my full experience, which was highlighted by the people I met along the way – various ultrarunners, the 100K winner who works for Supersapiens, and Too Legit founder Bertrand Newsom, who ran the last half-mile with me to the finish.
Thoughts of the Week:
Always surround yourself with people crazier than you.
I ran the first 28 miles of my 50k with Jim, a 75 year old who had just run 75 miles for his 75th birthday. He'd run the Western States 100 in the past and the furthest he had ever run was the Badwater 135 (135 miles from Death Valley to Mount Whitney!)
Lately, I've jumped far outside of my comfort zone, in an area completely unrelated to fitness. Sometimes I feel imposter syndrome when speaking with people with far more experience than me. But it's only in that kind of environment where I can grow, so I treat it the way I treat everything else.
Boxing Tutorial of the Week: Being Unpredictable
Boxing Share of the Week: Watch and learn from one of the best young prospects in the game, Shakur Stevenson. Shakur is extremely accurate and has a great jab, which sets everything else up off of it. He's defensively responsible at all times, and is hard to hit in the mid-range. Many fighters feel uncomfortable there, and end up taking a step back, which doesn't pull them out of the range, but actually into the end of their opponents range. Shakur Stevenson is comfortable in that range, and that's why you were able to see him back up Jamel Herring so much.
He had his way on the inside, the outside, and the mid-range. It was a masterclass performance.
Shakur Stevenson Best Performance of Young Career, Finishing Herring by TKO to Win Belt | HIGHLIGHT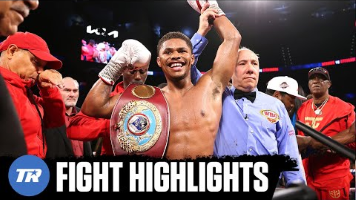 Health Share of the Week:
"Johns Hopkins Medicine Receives First Federal Grant for Psychedelic Treatment Research in 50 Years"
Product I'm Looking forward to: The New Oura Ring
I'm a big fan of the Oura Ring and use it to track my sleep and recovery. I received an email this past weekend hinting that a new model would be released on Tuesday, October 26th, 2021. I can't wait to see what they have in store for their next model.
This Week at Dreamland Boxing:
Our classes have been increased to 16 people per class. Intro to Sparring and Members Only Sparring are underway. See the full updates here. Come join me on Fridays at 4:30PM for a workout!
Also, I have continued to host our virtual boxing sessions. Thank you to our members for keeping your memberships active and continuing to support our gym during this time. And I'm personally glad to have been able to aid in your boxing development all year!
Our practices this week featured the following:
What to do when a fighter puts his/her weight on you
Moving forwards and backwards
Footwork
How to hold mitts
Body weight circuits
Balance drills
And more!
You can find a full list of drills if you are a current Dreamland Boxing member in the Premium Drills section of my website.
Subscribe to my newsletter!