Coach Ian – Week in Review 01/03/2021:
Happy New Year everyone!
Quote of the Week:
"So someone's good at taking down an opponent, but that doesn't make them more community-minded, or modest, or well-prepared for any circumstance, or more tolerant of the faults of others."
-Marcus Aurelius
Health Share of the Week:
www.iancruz.blog/no-sugar-snacking
I don't like the term "diet" and the implications that you must suffer in order to be healthy. Yo-yo dieting is one of the worst things you can do to your body, and our bodies are much more complex than some simplistic calorie-in-calorie-out formula. Truth is, many processed foods are engineered to be over-consumed with combinations of fat and fast carbs that aren't found in every day nature (i.e. "sweet fats"). I think these foods have zero place in our lives, and trying to consume nutrient-poor hyper-palatable foods in moderation will do long term damage to our bodies. It's a reason why the average American is unfortunately both overweight and malnourished, at the same time.
I don't track calories, but I never consume processed foods or foods with added sugar – avoiding the post-snack crashes that I used to suffer. But this doesn't mean that I starve myself or have to suffer throughout the day! Click here for a list of things I snack on throughout the day, guilt-free!
Turning 30:
This passage from "The Daily Stoic" by Ryan Holliday was dated on my 30th birthday, and couldn't be more fitting. Read more here.
Why I Started a Blog in 2020:
How the Pandemic changed my experience training others, why I started blogging, and what I learned along the way. Read more here.
Boxing Share of the Week:
HIGHLIGHTS | Ryan Garcia vs. Luke Campbell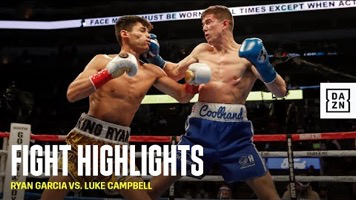 Wow. What a great fight between Ryan Garcia and Luke Campbell. Everyone who called Ryan Garcia an Instagram star and not a boxer had to eat their words.
This was the best kind of fight for Ryan Garcia early in his career. Someone who could test him, force him to make adjustments, and challenge his chin and heart, so he could show what he's really made of. Getting knocked down gave him the opportunity to prove himself. Ryan took his knockdown in the 2nd round well and fought like a champion afterwards. He rocked Luke Campbell later in the fight with the left hook to the head, which set up the feint left hook to the head followed by the left hook to the body. Beautiful shot.
I wanted to see how Ryan Garcia's power would look after the 5th round. That was answered. The next test I want to see for him is how he fares on the inside, against a fighter who can stay in his chest all night. Of course, they'd be putting themselves in harms way for his left hook coming in the whole time… Ryan Garcia's positioned himself in the tier or the elite: Gervonta Davis, Teofimo Lopez, Vasiliy Lomachenko, and Devin Haney. I'd like to see him fight any one of them.
Ryan Garcia vs Luke Campbell Highlight: Feinting the hook to the Head
The Kaiser Permanente Half Marathon:
The Kaiser Permanente San Francisco Half Marathon, 10K & 5K are GOING VIRTUAL and I'm joining in as an official Ambassador! Enter any of the races individually or sign up for the "Triple" Peaks Challenge to tackle all three. You'll receive a participant shirt and medal just for signing up. Registration opens, Nov. 2nd.
Sign up for the Kaiser Permanente San Francisco Virtual Half Marathon using my referral code here!
This Week at Dreamland Boxing:
Happy New Year to the Dreamland family! The big news is that Dreamland Boxing will re-open on January 11th, 2021 for outdoor classes. Keep an eye on your email for a registration link. Classes will be capped and there will be no waitlist for classes.
Also, I have continued to host our virtual boxing sessions. Thank you to our members for keeping your memberships active and continuing to support our gym during this time. And I'm personally glad to have been able to aid in your boxing development all year!
You can find a full list of drills if you are a current Dreamland Boxing member in the Premium Drills section of my website.
Subscribe to my newsletter!